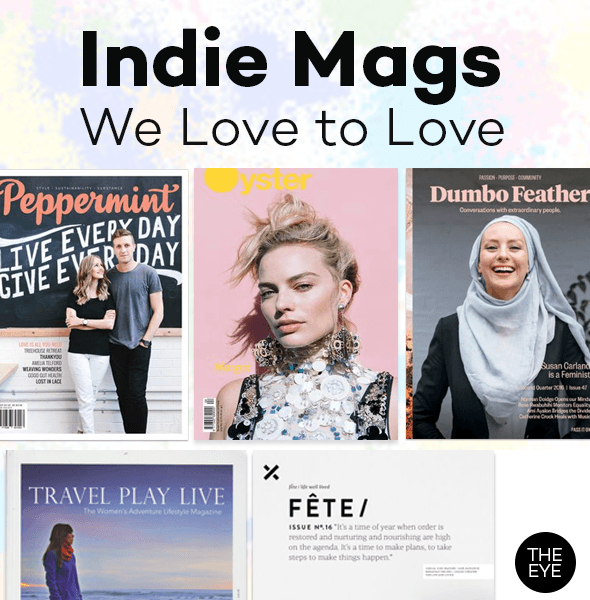 Peppermint
Here's a quarterly magazine to browse through and savour. Classy matte paper, simple and pretty design, and humble, sustainable ethos add up to a lifestyle that looks as good as it feels. Who doesn't love tree houses? (For example.) There's architecture and design, travel, fashion, wellness and culture, all with an ethical bent. Strong social values and inspiring personal profiles rule. Peppermint's motto is Style. Sustainability. Substance. Cool as Folk.
Dumbo Feather
Dumbo Feather thrives on skilfully written stories about fascinating, inspiring people doing socially significant, politically savvy, scientifically important or passionately creative things. Phew! Each issue features five in-depth articles about people we need to know – it seems everyone from scientist David Suzuki to artist Del Kathryn Barton has been interviewed and profiled here. High quality design plus real readable substance means issues are keepers. Icons of our time.
Oyster
It's the fashion bible for the edge. Slightly left of field, outside the mainstream, super glossy and super cool. Pick up Oyster to find what's trending & see Australian and International designers interpreted in quirky, fresh modern ways. Creative photo shoots challenge the status quo and offer plenty of fashion and beauty inspo for those who like to be ahead of the game. Words matter – profiles on models & muses & artists too. Coffee Table Candy.
Fete
If we could all live a Fete-worthy life, the world would be a more harmonious place. This mag offers up a hymn to a serenely beautiful existence, designed in chalky white and natural earth tones. It's Scandi meets Japanese minimalism meets contemporary artisan design. Think felt, linen, wool, wood, white panelling, muted colours of blue and grey, ceramics, slow food, organics and craftsmanship with a 21st century twist. Leaf through the carefully designed matte pages and be inspired to clear out clutter, create a yoga studio or order up that perfect hand-turned timber bowl. Dreamy and luminous.
Travel Play Live
Here's a super cute mag for women and about women doing active, empowered things that contemporary women are keen to do. Trekking, cycling, sailing and other memorable holidays with your girlfriends plus all the gear you need to shop for, break in and take along. It's joyful and practical at the same time. Challenging adventure stories are mixed in with lighter travel tales plus there's food, holistic wellness and profiles. Gorgeously motivational.