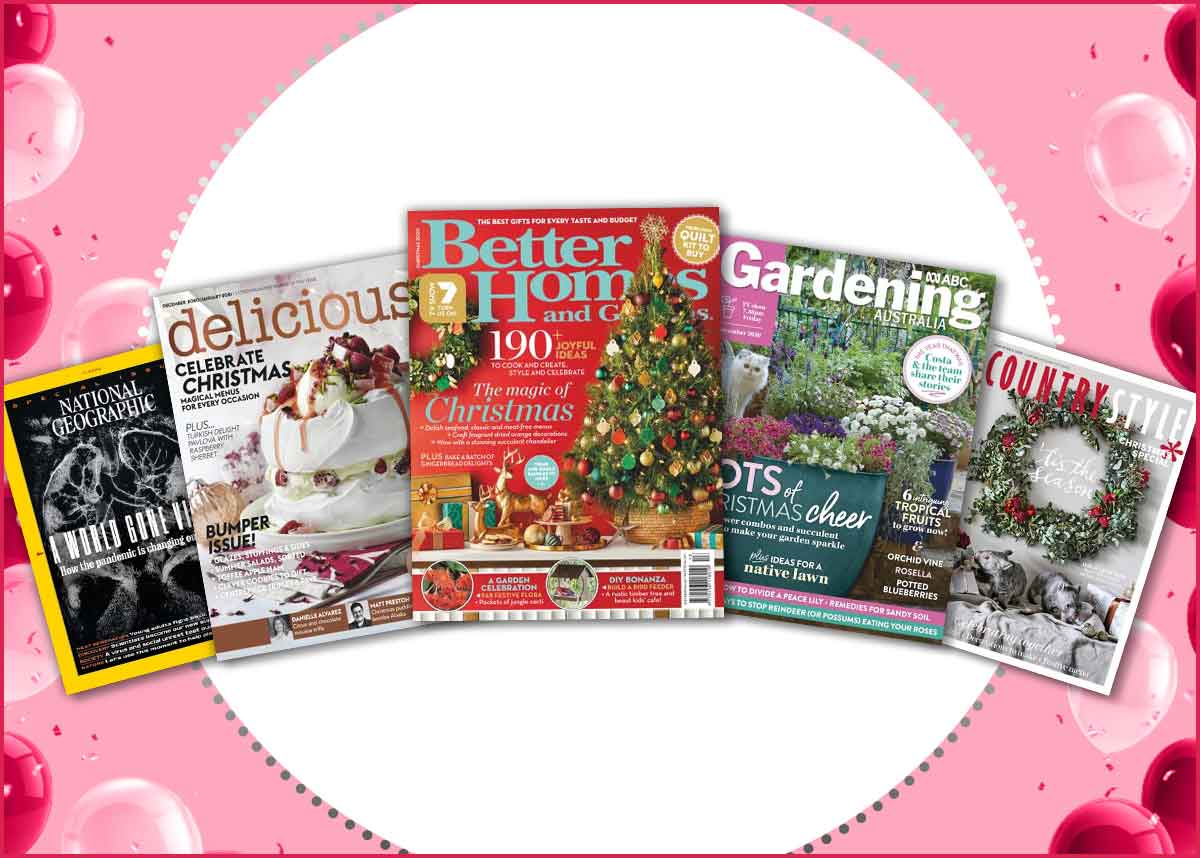 On December 4 2020, isubscribe celebrates its 20th anniversary and a reputation as the go-to marketplace for magazine subscriptions and subscription products in Australia, New Zealand and the United Kingdom.
After launching during the dot-come crash in 2000, the business has navigated one of the most signficant industrial periods of our time with the digital transformation and disruption of retail and traditional media businesses worldwide.
Andrew Burge, Founder and Chief Executive, isubscribe said, "It's only when you look back you realise how far we've come. From that very first subscription in December 2000, we've now sold over 5 million across three markets and have 1 million active subscribers who value subscription products.
"As we hit our 20th birthday, I am absolutely thrilled with isubscribe's performance with 2020 being our strongest year in sales volumes, revenue and profitability. It is a testament to the amazing team under the leadership of Managing Director, Hunter Drinan."
Brett Willis, General Manager Retails Sales and Circulation, NewsLifeMedia, was one of the first to sign up his portfolio in 2000 as Circulation Manager of the newly launched company, News Magazines. When asked to comment on isubscribe reaching its 20th year, Willis said, "isubscribe ensures our mastheads are consistently front and centre across the entire magazine marketplace and reaching new subscribers every day.
"isubscribe has been a great business partner, working together using their unique audience to grow our business. Our sales and brands across the portfolio have benefited greatly from this partnership. I commend the isubscribe team for performing consistently for so long in a challenging market."
Magazines like many industries have experienced a tumultuous period in 2020, particularly in Australia and New Zealand. However the resilience of many leading magazine titles at home and around the world in 2020, with uplifts in subscriptions and sales, demonstrates a particular trust readers have in the established brands and their years of experience. The results together with shifting attitudes suggest a bright future for magazine publishing.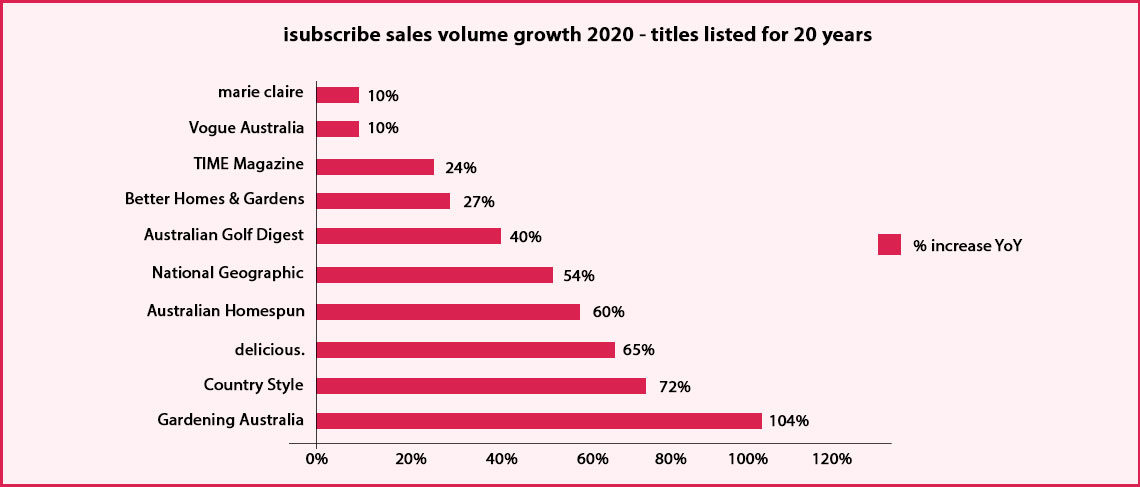 Better Homes and Gardens magazine subscription sales are up 35% year on year (YoY) on isubscribe.com.au and overall, it's still the no.1 selling magazine subscription on the site since 2000. Gardening Australia magazine is up over 100% YoY. Delicious. magazine is up 62% YoY and National Geographic subscription sales are up 50% YoY. These titles have topped the past 20 years magazine subscription sales on isubscribe together with Men's Health (set to return to print in 2021) and other household brands such as Australian Home Beautiful, Vogue Australia, Country Style, marie claire and Time.
In New Zealand, the trend is consistent with Australia. Topselling brands, NZ House and Garden, NZ Gardener, Dish, NZ Fishing News, Cuisine and NZ Listener, to name a few, are still the leading magazines after 17 years on isubscribe.co.nz.
"We don't see the demand for magazines and subscriptions dissipating dramatically anytime soon, if anything we're seeing great faith in the medium with sales this year expected to be the highest in all of our 20 years." said Hunter Drinan, Managing Director, isubscribe.
Together with the resurgent trust in the established magazine brands and positive subscription sales this year, the quality of magazine reader engagement compared with other publishing mediums is becoming more appreciated. After so many years of a 'digital-is-everything' approach, likewise, the important role magazine's play as anchors of publishing brands.
"There are still great opportunities, particularly for niche magazines with a highly engaged community around a particular interest. We're seeing new titles launch and also strong growth in other subscription products. For example, beauty subscriptions, craft and kids box subscriptions and many others."
Newly formed School Road Publishing in New Zealand has launched four brand new magazine titles into the market in 2020: WOMAN, Haven, Thrive and Scout led by award winning editor Sido Kitchin. In Australia, Australian Geographic has just launched a new kids magazine, Australian Geographic Explorers, and the New York Times Magazine announced it will produce an Australian edition.
Isubscribe lists over 100 subscription 'box' products. Around half of these were newly listed in 2020 and sales for the category are up 95% YoY.
Drinan said, "The future is bright for isubscribe. The business is well positioned to capitalise on the opportunities presented by the growing subscription economy and a return to magazine reading and trusted media brands."
--- end ---