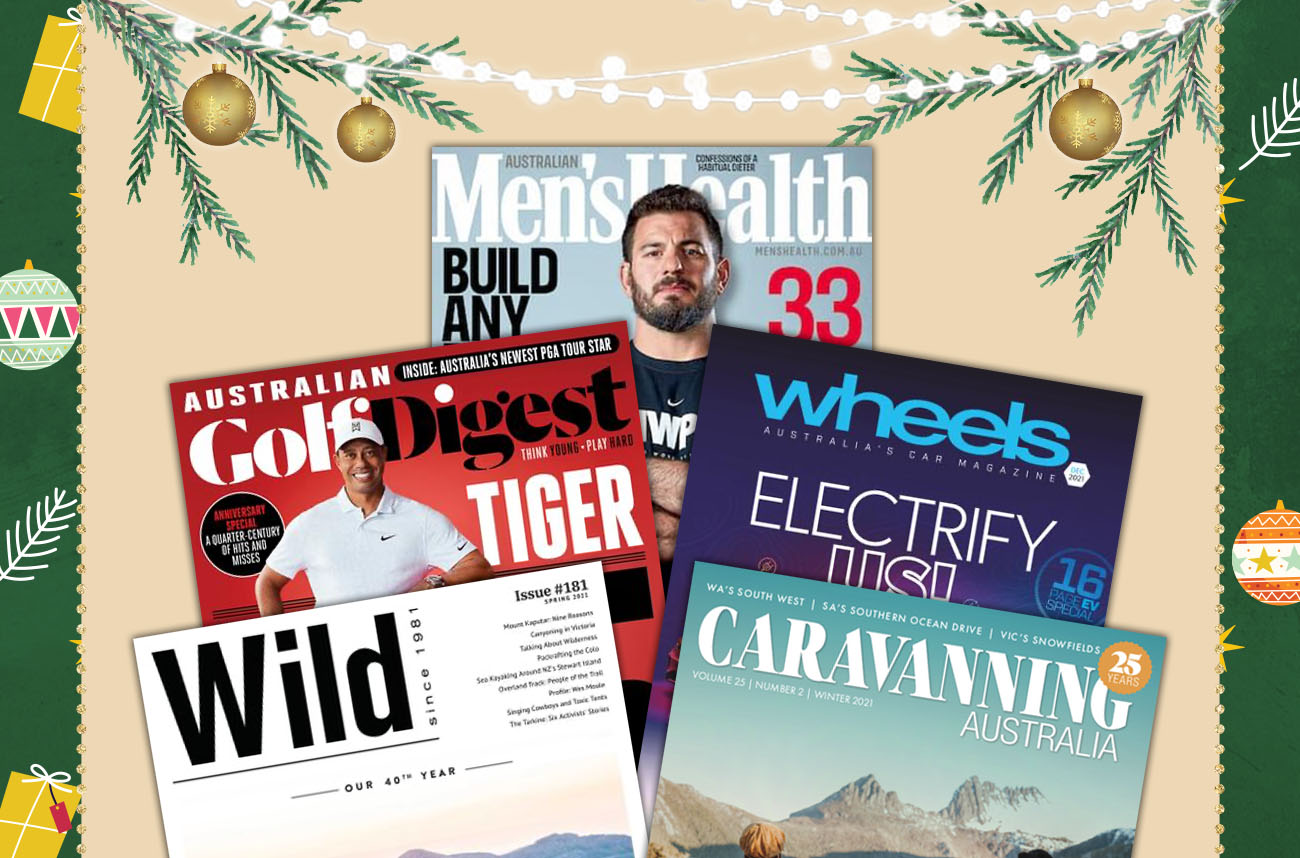 Men's Health
Men's Health magazine offers a kaleidescope of features to satisfy every man's desire to live well and be better from the inside out. Features cover fitness, health, careers, sex, travel, relationships, fashion, technology and entertainment - from cocktails to cars - with a touch of wit along the way. Men's Health is a winning gift solution that covers a range of interests, delivered effortlessly every month.
Subscribe to Men's Health magazine
Wheels
If they love cars, they'll love Wheels magazine. Wheels is the leading, source for expert-written features, reviews and news on cars and the automotive industry in Australia. There's the annual Wheels Car of the Year edition plus regular features on all aspects of motoring from buying, hiring, new models, new technology, accessories and other countries' developments. As we like to say, 'subscribe them to what they love' and fuel their passion!
Wild
Wild magazine is Australia's premier outdoor and adventure magazine with a conservationist heart. Established in 1981, this magazine knows its territory and explores endless opportunities Australia-wide for bush walking, moutaineering, paddling, skiing, climbing, canyoning, caveing and riding, with specatcular imagery to boot.
Australian Golf Digest
Australian Golf Digest magazine offers the passionate a go-to source of news and information and inspiration about the sport they love, played around the world. A subscription ensures that your recipient is up to date with the latest equipment reviews, technique musings, mindset ideas and importantly, is delivered profiles and intereviews with the world's best like Adam Scott, Tiger Woods and Greg Norman.
Subscribe to Australian Golf Digest
Caravanning Australia
Inspire your friend or loved one to take off down the road with a subscription to Caravanning Australia. The magazine explore Australia's diverse and expansive landscapes from coastlines to deserts, rainforests to alpine mountains. Plus, includes product reviews and travel tips to be sure you get the most of your trips away, whether they're for two or the whole family.
Subscribe to Caravanning Australia
For more ideas, visit our Gift Shop where you can browse all the bestsellers.