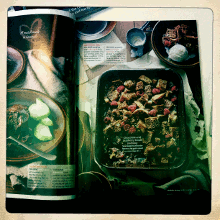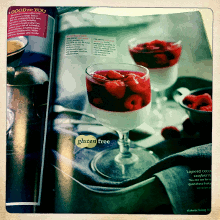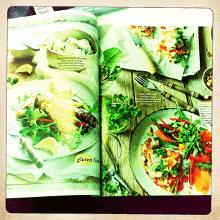 There's been an explosion of interest in niche health and lifestyle titles in recent years and we are all more and more conscious of the role good food plays in our lives. Diabetic Living publishes delicious and nourishing recipes for those living with dietary restrictions, without compromising on flavour or indulgent visual appeal.
Easter treats include low fat cakes and puddings such as coconut, rhubarb and chocolate cake and chocolate and mint cheesecake slice. These look utterly scrumptious on the page. Each includes nutrition information of protein, fat, carb and fibre breakdown, plus carb exchanges and GI estimate. There are versions with sugar, and with sugar substitute. This recipe breakdown is consistent throughout the magazine, making it super easy to chose what works for you.
The March/April issue includes a gluten free special in honour of coeliac week in March, and in general many of the recipes throughout the magazine have gluten free options. There are pages of pretty desserts (buttermilk, honey and fig panna cottas – yum!) as well as articles and stories geared towards wellness and daily life living with diabetes. A fitness article on water workouts – standing, walking and swimming – is followed by an interesting look at discrimination in the workplace in the current issue, plus there's a guide to how to choose a blood sugar meter. There's plenty to read. For those living with diabetes or cooking for a diabetic, this is a terrific magazine.