It's two years since innovative independent magazine Renegade Collective (The Collective) hit the stands. It's grown from strength to strength, carving out a niche in the competitive world of fashion and lifestyle magazines. The Collective has a unique voice driven by the passions of founder and editor Lisa Messenger. Here, we talk to her about what it takes to realise a dream.

The Collective recently turned two – how has the journey been so far?
Its been an extraordinary, BIG, crazy, fun filled journey of learning and discovery and growth. I had no magazine background with a staff of three when we launched. The print magazine is now in 37 countries and we now have multiple different platforms and extensions so life is exciting and there is most certainly never a dull moment.
As an entrepreneur yourself, what's the best advice you can give to a start up?
Just start. Seriously. It sounds so simple but just jump in and pre-sell before you even know how to do something. When you are passionate and on purpose, things have a way of working themselves out.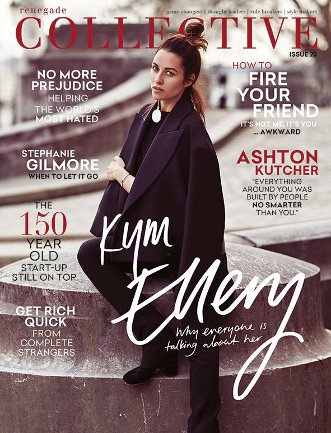 You are an author as well as a magazine editor – how do you make it all work?
Yes! And I am also CEO of The Messenger Group. The trick is having an extraordinary team and identifying your weaknesses and hiring people to do things that you're not good at. I'm a great visionary, strategist, creative and leader. I'm terrible at detail and operational tasks so I hire kick-arse people who can do this for me.
The current issue (no.20) has the gorgeous fashion designer Kym Ellery on the cover and a range of interviews with inspiring people like Stephanie Gilmore and Ashton Kutcher. Can you give us a behind the scenes peak into how an issue comes together?
Well we have close to 60 freelance writers working for us now from all corners of the globe. We are constantly on the search for incredible people and brands to showcase. We commission stories (we generally run over 50 in the print mag each month and then run things on line, on social etc etc). So there are a lot of moving parts. We really just look for inspirational people who can help others to be the very best version of themselves.
The Collective embraces the flexibility, connectivity and change new technology and social media are bringing into our lives. What's the next big thing?
I am putting together an advisory board at the moment of the smartest minds I have come across. We are working on some very large projects globally. If the Collective were a book we would be on page one, paragraph one. This is just the beginning of the journey. My big vision is to be an entrepreneur for entrepreneurs, globally demonstrating that absolutely anything is possible.
We travel the world in this issue, from Paris to a boutique hotel in the Catskill Mountains in New York State… do you have a dream destination?
I spend a lot of time in Sydney, New York and Byron every year on rotation. Other than that I try to visit at least a few places I have never been before each year. Next week I go to New York and we are working on a fun side project whilst we are over there.
Who (or what) is your go-to inspiration when times get tough?
It gets tough every single day. As an entrepreneur you have to want it as much as you want to breath. Literally. You have to have an unwavering self-belief, an unbelievable tool kit, the ability to hustle and audacious tenacity. I surround myself with amazing people to lift me higher.
The Collective actively seeks connections with readers on a variety of platforms. How important are subscribers to the magazine? Why subscribe?
Subscribers are a really imperative channel for us. They are our consistent community of incredible likeminded people. Subscribe to never miss an issue and be ahead of the game. The Collective is all about game changers, thought leaders, rule breakers and style makers. Be inspired and be the best version of you.