INSIDE SPORT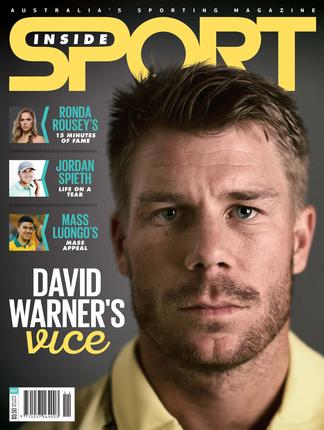 Let's talk sport, from every angle: watching it, playing it, dreaming about it. Inside Sport is the go-to magazine for Australian and international sports. AFL or NRL, tennis or cycling, grand prix Formula 1 racing, cricket or golf or basketball or boxing or swimming … if he wants to watch it or train for it or travel to see it, the information and the inspiration will be here. Each month the mag has articles on such important things as how to prepare for a triathlon, for instance, or how to choose the right gear, or the mental challenges of competition. It's known for excellent profiles of sportsmen and sportswomen that give a behind the scenes look at the character and high stakes game of competitive sports. Plus loads of solid news and amazing action photography.
MEN'S HEALTH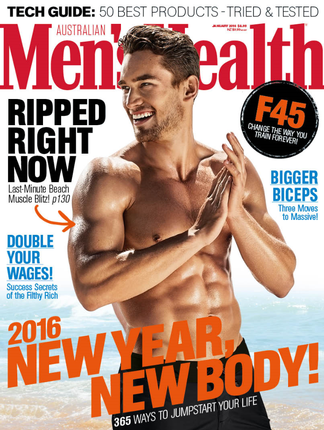 This super popular mag sets out to give men the tools they need to lead better lives. It's genuinely holistic and well balanced, with articles on everything from getting in shape to asking the boss for a raise. The celebrity sportsperson on the front cover is always impressive, but the contents are aimed at regular, active performance-driven guys, offering inspiration and motivation as well as practical tools. There's food and nutrition and life skills – how to scale and bone a fish for example, or best fat burning foods. There's sex and sexuality info, articles on relationships, how to be a better dad, how to manage stress. Fitness is key in Men's Health, with work out plans and interviews with trainers and elite sportspeople. Now you've got the body, it's important to give it the right clothes – great fashion and accessories and grooming advice in this mag, as well as travel and lifestyle.
AUSTRALIAN 4WD ACTION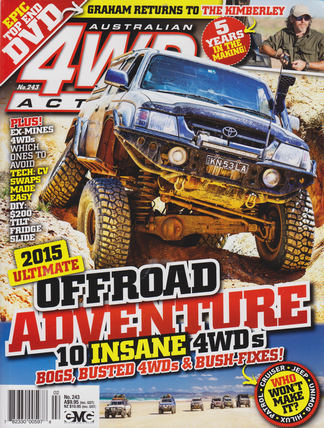 The title says it all – if your man likes to drive, if he likes to 4WD, if he has a dream about one day going 4 wheel driving, this is the mag for him. It's a celebration of off road, out back, getting down and dirty and away from it all. It's chock full of comprehensive articles on vehicles and equipment, getting the most out of your gear. There's loads of expert advice on things like modifying 4WDs, the hidden costs of upgrading, simple tricks to a smooth running engine and heaps more. It's a hands-on, how-to, practical magazine, with informative articles set out in step-by-step form. There's also lots of info on camping gear, a kid's corner section, and adrenaline-fuelled adventure stories. There's a wish-list appeal to this magazine too – travel tales, action photography, sleeping under the stars.
GQ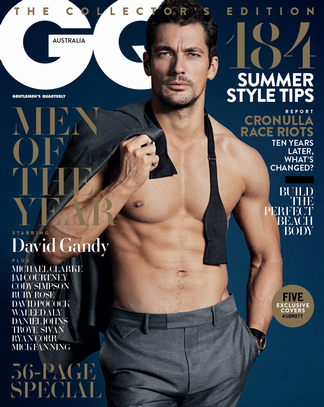 It's the magazine for the urbane, sophisticated, modern metrosexual. Famous for excellent writing, insightful stories and gorgeous photography, GQ is glossy and compulsively readable. From the iconic celebrity covers to the dreamy travel section, there's much to love about this magazine. Fashion is always a highlight, with plenty of options - new season denim, yachting style, the perfect shirt or designer trainer. Boy's toys – cars, boats, watches, phones - get the lowdown on what's new, what's trending and why it's covetable. Celebrity profiles are intelligently written, as are political and social articles. Contemporary design and architecture, film and the arts, inspiring figures in sport and business, and beautiful women all feature in GQ.
AUSTRALIAN GOLF DIGEST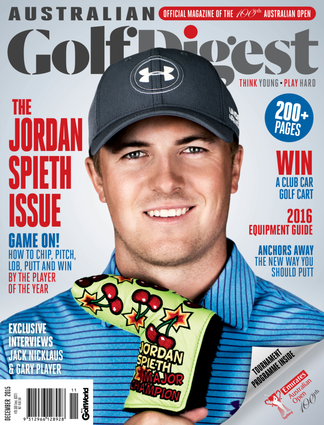 It's the best-read golf magazine in the country and the ideal gift to encourage him to follow his passion. Australian Golf Digest casts a wide net: there is news, are informative, well-researched practical articles on clubs and equipment; there are expert opinions on aspects of the game, from swing technique to positive mindset; there are profiles of famous golfers and celebrity aficionados of the sport. Along with interviews with such luminaries as Tiger Woods and Ricky Fowler, there are regular features on the top golf courses in the world. There's bucket-list travel too – with iconic golfing holidays in beautiful parts of the globe. The rising stars in the sport and the key events in the sporting calendar are covered.