Donna Hay's fresh, simple and elegant approach to food and life has made her a household name. This week we talk to her about milestones, celebratory moments, her amazing team, formative food memories, what's coming up this year and how she loves to cook with her sons.

Congratulations on the fabulous 80th issue collector's edition of Donna Hay Magazine! What does this milestone mean to you?
Thank you. I can't believe it's been almost 15 years since our first issue! I love what I do, so it means a lot to me that I'm still able to come into the office every day and get to work with my amazing team, creating beautiful pages for our readers.
Do you still have as much fun as when you first started? Is laughter an essential ingredient?
Absolutely! I think we probably have more fun now than when we first started. My team are all very experienced and great at their jobs – we all work really hard but we also love when we get to have a laugh, and there are definitely a few practical jokers in the office. A happy workplace is also a creative one, so I'd definitely say it's an essential.
Have you always loved food? What are your formative memories?
Some of my fondest childhood memories are of cooking with my grandmother, and that's where it all started. She had a large herb and vegetable garden, and we'd all go out and pick things fresh, and then head into the kitchen to cook them. My mum also always encouraged me to cook, and I was creating big meals from my family from a really early age.
What were your favourite magazines growing up? Which ones inspire you today?
I've always loved Vogue Entertaining and Travel but when I was younger, I was more about the cookbooks. I had the Australian Women's Weekly cookbooks and The Country Women's Association Cookbook, which I used a lot, particularly for those traditional baking recipes like scones and sponge cakes. I recently travelled to the UK and was really inspired by the huge variety of unique and creative magazines they have over there, too.
Donna Hay Magazine is known for luminous minimal photography. How did this become your signature style? What's the secret behind such simple beauty?
Keeping things simple and beautiful has always been my design aesthetic. We're so lucky to live in Australia because the light here is so perfect for food photography – all the food in our magazine is shot in natural light here in our studio. I have always had a close attention to detail (my team know that I'm a perfectionist!), and I love the clean, crisp look of beautiful food on white plates. It's such a simple formula, but so effective.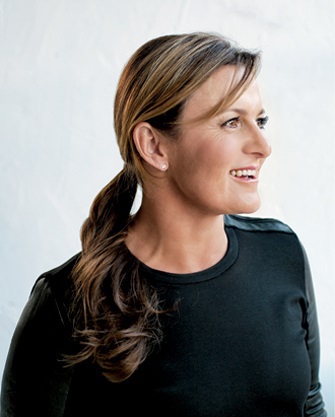 The current issue is a real crowd pleaser, with great schnitzel recipes and salted caramel – yum! What's your guilty pleasure?
Yes, the team loved taste-testing this issue! We made the cover recipe a few extra times, to ensure it was perfect, and someone has to eat it! My guilty pleasure definitely has to be ice-cream, and we love having an indulgent gelato on Friday afternoons in the office. Generally anything cool and frozen gets my vote, like a refreshing granita or fruit sorbet. I'm a summer girl at heart, and there's nothing better than a popsicle on the beach on a warm day!
Mother's Day is coming up, do you cook with your kids? What's the best thing about being a mum?
We're cooking all the time in my house – I live near the water, so often my boys will go fishing after school and we'll cook up their catch for dinner (some days they're more successful than others!). We also love a good barbecue. Having two boys means life is always really busy, but they help to keep me grounded, and I love coming home to them after a hectic day. I also love that I can do 'sporty boy stuff' with them, like paddle boarding and bike riding.
Can you give us a sneak peak as to what's coming up for the multitalented Donna Hay (you and your brand) – the magazine, cookbooks, television shows, homewares - this year?
There are so many exciting things going on! Our first issue of donna hay Fresh + Light, which launched in February, was so popular that we're going to be doing it more regularly (look out for the next issue coming soon). Plus, I'm currently planning a new television series and working on my next cookbook. There are also a few new exciting products coming to the donna hay store online that I've been perfecting over the past year or so – we definitely have a busy time ahead of us! The team has also just started working on our spring issue, which is going to be a little bit extra special this year… I don't want to spoil the surprise!
How important is reader involvement to Donna Hay Magazine? Why subscribe?
My readers are so important to me – they really are the reason we come into work every day. I love that the magazine becomes part of people's lives, whether they are cooking from it, sharing it with friends, or talking about it on Facebook or Instagram. Our readers inspire us to keep working hard to ensure our content is always new and relevant, while also being simple, beautiful and achievable – all the things that have made us one of the leading food magazines. Our subscribers get their copy before it hits the newsstands, and subscribing means you'll never miss out on an issue – saving on the cover price is a great bonus, too!