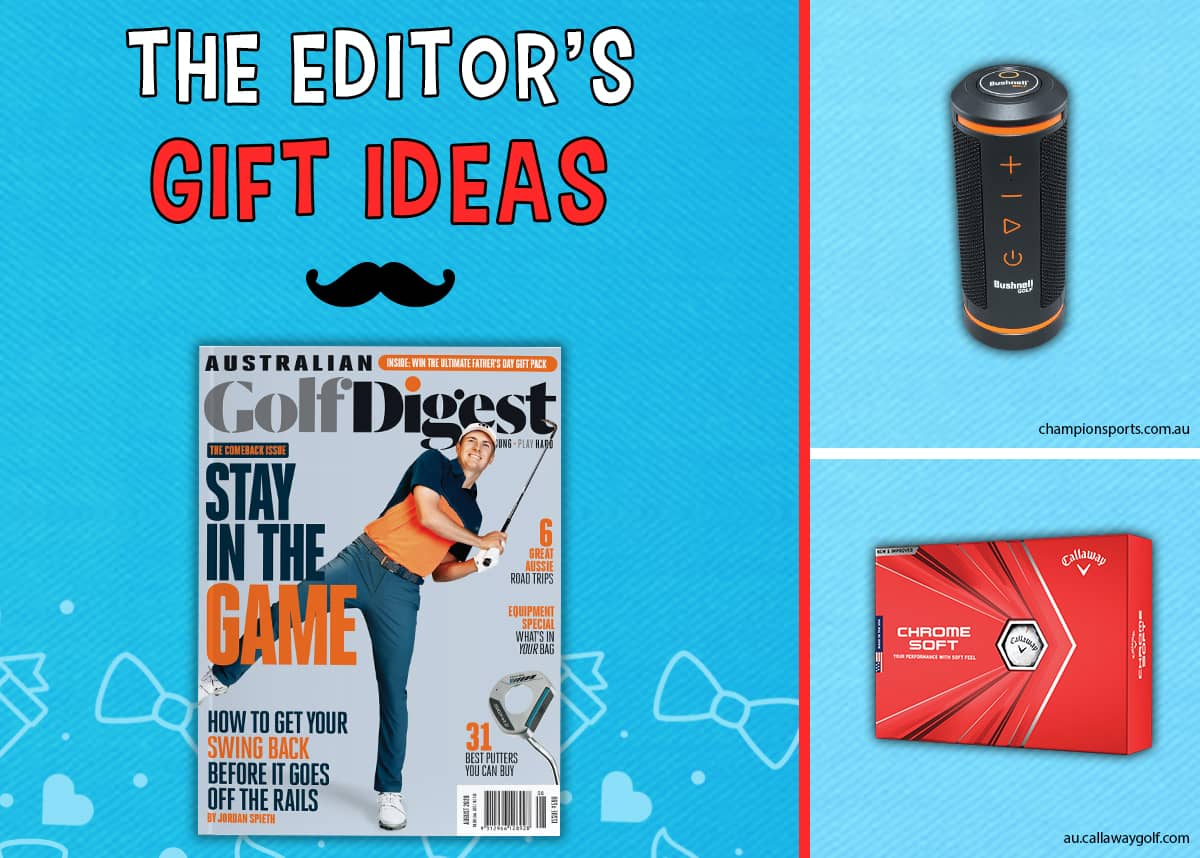 1. Bushnell Wingman
A cart speaker might not be your thing, but when you decide to make one and you're Bushnell, it becomes a whole lot more than a music machine. The Bushnell Wingman is a speaker that doubles as a GPS yardage device, providing front, middle and back distances when paired with the Bushnell Golf app on your phone. You can also play music through the Bluetooth, and by using the remote – which conveniently doubles as a ball marker – the music pauses for the audible readout of the distances to the green. The Wingman features a battery life of at least 10 hours, automatic hole advance and an input to charge other devices. It also comes with the company's Bite magnetic clip that allows the speaker to be mounted on your cart so you don't lose it. Check out Bushnell Golf for more details.
2. Callaway Chrome Soft golf balls
No golfer can ever have too many golf balls – and two of the best on the market are Callaway's Chrome Soft and Chrome Soft X. Why two models? Because the players these two balls are now designed for are demanding fundamentally different things and those demands require fundamentally different solutions. While it's still the case that both types of players want ball speed and distance and short game spin, and both balls deliver that performance through a multilayer core and mantle and urethane cover construction, the guts of Chrome Soft and Chrome Soft X seem as different from each other as two balls from two different brands. While the Chrome Soft features a dual core where two kinds of rubber formulations of differing firmness comprise an inner and outer core that are then wrapped by an ionomer mantle layer followed by the urethane cover, the Chrome Soft X features a significantly larger single core and two mantle layers followed by the urethane cover. It's the latter that is the significant departure from the past versions focused on higher swing speed, elite-skilled players. Check out au.callawaygolf.com for more details.
3. Subscription to Australian Golf Digest
Why not treat Dad to a gift that keeps on giving? Not one but 12 presents – delivered to his doorstep every month. A year-long subscription to Australian Golf Digest will keep him updated on all that's happening in the world of golf and provide Dad with a plethora of handy tips to improve his game and much more. Plus, subscribe before Father's Day and Dad will go in the draw to win the ultimate Father's Day prize pack*! Check out our range of subscription offers on isubscribe.