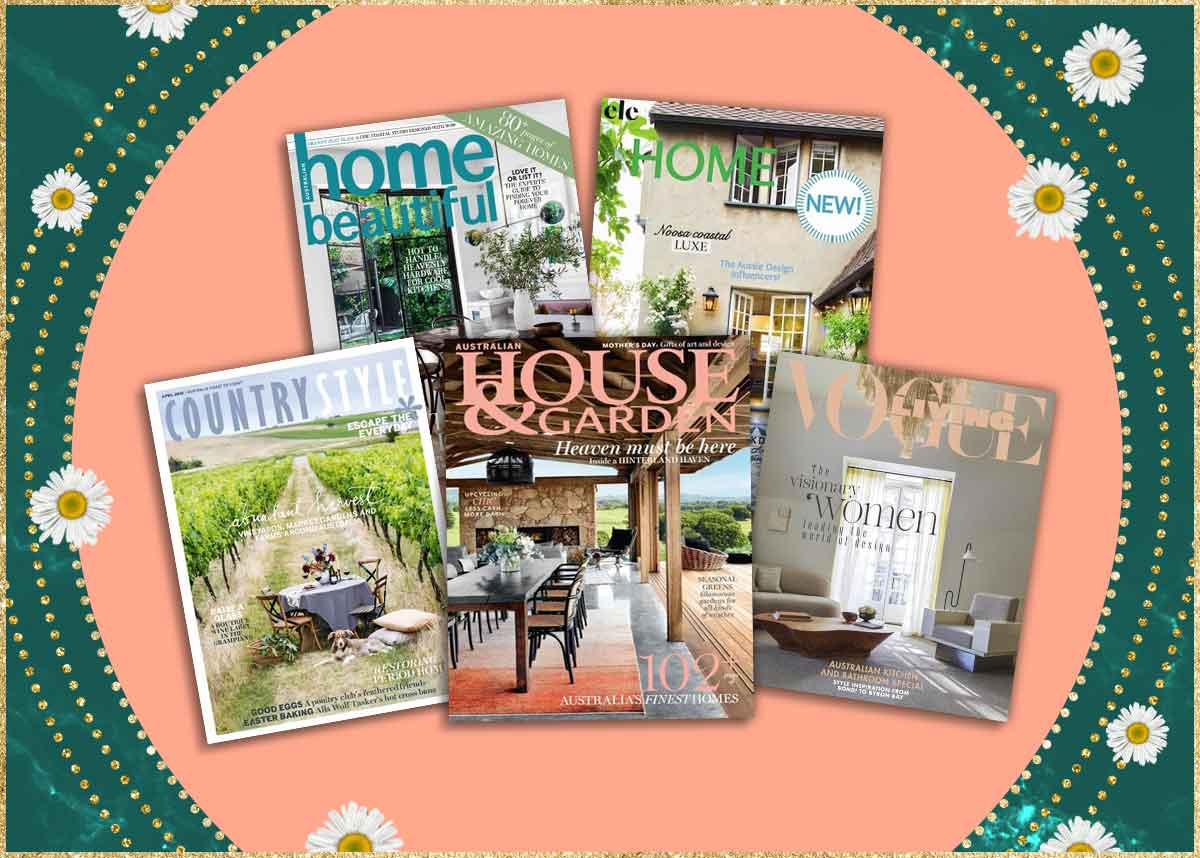 Australian Home Beautiful
Australian Home Beautiful magazine's mission is to turn your house into your dream home. Mum will say thank you for the stunning decorating ideas every month she can add to her to do list! She'll also love the details of where to buy the best homewares, tricks for renovating and making over her home as well as entertaining and recipe ideas. To get her home buzzing just the way she wants, give her the gift of Australian Home Beautiful.
Shop Australian Home Beautiful
Country Style
Country Style brings you sometimes shabby, sometimes chic and always romantic, country homes and the people who've created them. Give Mum the gift of visiting the most charming homes and gardens from country to coast; she will travel through Australia's most vibrant regional centres as she turns the pages and pick up stylish home decorating ideas and tips for her next weekend away. If it's escape and inspiration she wants of the Country Style variety, a monthly delivery of just that will bring her so much joy.
Ele Home
Ele HOME is a brand NEW Australian interiors, home and garden magazine that looks both locally and across the globe for the best inspiration for your most loved spaces and items. Ele HOME offers a uniquely fresh and Australian perspective on what's in vogue for your home. The launch issue covered the country from top to bottom looking at Noosa's coastal styles down to Tasmanian getaways with features on Aussie design influencers and the drink of the day, gin. If your Mum loves immersing herself in places of style, inside and out, this is a great magazine for her!
Vogue Living
Vogue Living brings the best of interior design and architecture mixed with art and culture, entertaining and travel from anywhere around the world. Vogue Living will take Mum on a journey of design inspiration room by room, and a journey of destination inspiration where people of style are hanging out or creating something unforgettable. Vogue Living is for the Mum who loves connecting with ideas from abroad and layering her home with different influences and objects that tell a story.
Australian House and Garden
Australian House and Garden is one of the most trusted home and gardens magazines for its classic style with a touch of what's hot-right-now. Mum will find expert advice for renovations, design and decorating paired with food, travel, landscape and even health scoops, your environment is that important! Give Mum the gift of me-time exploring timeless homes and gardens.