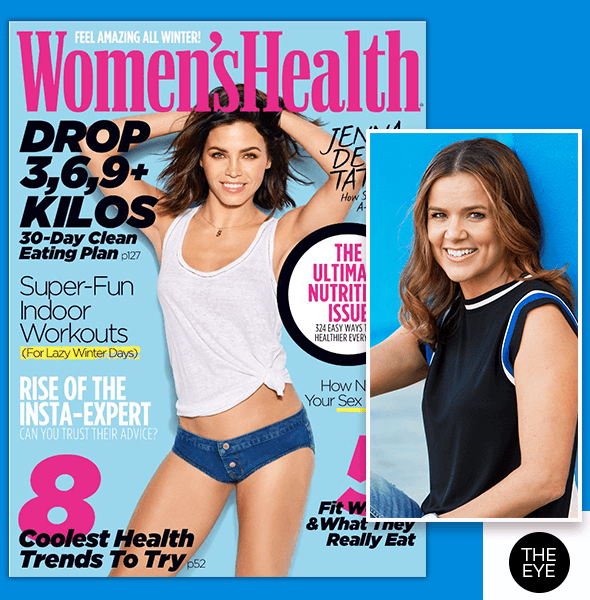 1.Felicity your the Editor of Women's Health, a busy and demanding job so we have to ask, how do you achieve living a healthy life when you are short of time? Can you share some of your tips and tricks?
Many say it's not easy but being healthy and balanced can actually be quite simple if you incorporate three key elements: nutrition, sleep and exercise. In a week, if I manage to squash in two runs and a yoga class, get good quality sleep and eat as many fresh, wholefoods as possible – well, my week is a lot sunnier, less stressed and easy.
2. What inspired you to be the Editor of a health magazine?
I wanted to work for a brand that inspires and encourages women to be better versions of themselves in all areas of their life … and Women's Health does just that!
3. Women's Health is one of the most popular mags on isubscribe and no.1 in the health category, what do you think makes it so attractive to readers?
We fill our magazine with as many tips, tricks and advice that we can – we want readers to read it and feel that they can do it. Whether it's sweating it out in a barre class for the first time, running a half marathon or losing the last few kilos: we know she can do and we're going to help her get there. We also want to make women laugh so we pack the pages with loud-out-loud pictures and loads of humour.
4. There are a lot of phases and fads when it comes to health, what do you think is the most interesting myth bust or breakthrough recently in health and fitness?
Full-fat diary is making a comeback! An increasing body of evidence is pointing to the fact that full-fat diary could be a healthier choice. I gave up low-fat milk a few years back after reading The Big Fat Surprise by Nina Teicholz (her tagline: why butter, meat and cheese belong in a healthy diet) and since I've brought – albeit a little - fat back into my diet, I'm fuller for longer and snack less.
5. We've noticed the 'Golden Moments' showcasing amazing Aussie female Olympians on the back page of your recent issues. Who is your favourite past or present female Olympian and why?
Six years ago we launched our I Support Women in Sport campaign to give more media coverage to our female athletes. Over the years, I've met so many amazing athletes who have personally inspired me but perhaps one who struck a cord was Melbourne Paralympican Jessica Gallagher who is legally blind. She has represented Australia at the Olympics as an alpine skier, track and field athlete and is now off to Rio to compete in tandem cycling. Although she is already a dual Paralympic bronze medalist (in 2010 & 2014) she's pumped for another medal! Oh, and she is an osteopath in her spare time.
6. It seems particular fruits and veggies become stars in their own right lately, first it was Kale, now it's Cauliflower, what's your pick for the next star ingredient?!
It's sweet potato's moment and I can't get enough of #sweetpotatotoast on Instagram. Slice some 2cm thick, toast it and then sprinkle with your favourite topping like scrambled eggs or tomato. A simple snack for a max nutrition hit.
7. The August Nutrition Women's Health issue (on sale 4 July) is packed with delicious recipes ideas and features, what was the most surprising or curious nutrition discovery for you putting together this issue?
Get this: grapefruit, oranges, limes – a lot of citrus fruits – can interact with different medicines. Chemicals in the fruit can mess-up how you metobolise the drug. Something to be mindful of during your next course of antibiotics!
8. What is your must-have/s on your weekly grocery shopping list?
You will always find the following things on my list: apples, yoghurt, strawberries and chocolate!
9. The active wear meets fashion trends doesn't appear to be going anywhere, do you think it may actually help to promote healthy lifestyles?
For sure! I'm a big fan of the athleisure trend. The first step to exercising is pulling on your gear and a brand-spanking new outfit is always added motivation. My favourite day in the Women's Health office is "Fitness Gear Fridays" where everyone is allowed to don their favourite active wear. Come lunchtime there is no one around as everyone does their chosen exercise whether it be boot camp or barre.
10. Why do you think readers should subscribe to Women's Health in this day and age?
So many reasons! Every issue we pull together, I learn something new; I'm inspired to try something different; or given new recipes to whip up. The magazine is jammed with so many inspiring women, too, that it can't help but make your month better for reading it.