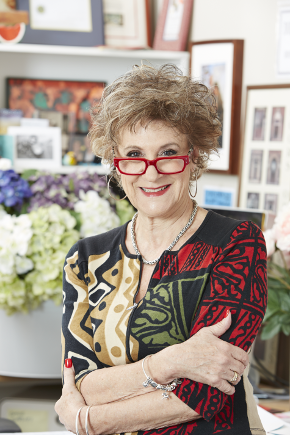 Julia, Better Homes and Gardens is one of Australia's top selling magazines, what's its distinct appeal?
We wrestle for the top position with the Australian Women's Weekly, particularly in supermarkets, some months we are the top selling magazine, other months we're just underneath, but we're certainly up there which is an amazingly wonderful place to be.
I think fundamentally the intention of Better Homes and Gardens is always to create content so the user is able to do something with it that makes their life better. Ultimately, I think we give people the wherewithal to have a happier life. And I think if you can do that, you can really believe in what you do and you love it!
Often times people ask: why don't you put people in the magazine? Why don't you put people on the cover?
In fact, when we were talking about putting a Christmas tree on our Christmas cover someone suggested - why don't we get a celebrity to design it? Those of us who have been here for ages went - no no no no! Because the whole intention of this magazine is that we give the information and the ideas and the inspiration so the readers can be the celebrities, they're the achievers. We love our readers, we really love them, they're an army of amazing doers who are just terrific.
Better Homes and Gardens is known for terrific recipes and mouth-watering food photography. The last issue paid tribute to the humble takeaway chook. Why is it such an Aussie standby?
If you can get the right chook and it tastes succulent and fabulous and wonderful, you can actually turn it into something spectacular without too much effort, and I think that's the issue for today. Taste is critical in anything you cook – and roast chook is usually a pretty tasty number. You can just do amazing things with it without too much effort and without too much time and without too much cost.
What's coming up in your Christmas issue (on sale 15th October)?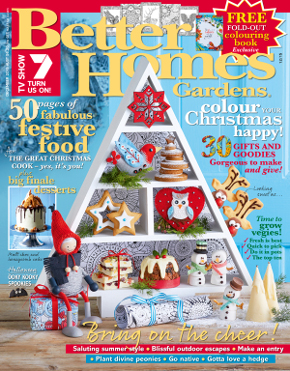 This year in the December we have a bonus fold-out colouring-in book with handmade ideas for projects with what you have coloured. And we have handmade ideas for the pages from the fold-out also, if you choose to leave them uncoloured in black and white! Sooooo sophisticated!
In this issue we also feature a whopping mix and match festive food section, so you choose what you want for you splendiferous Christmas day feast.
And not to be missed are the big finale show-stopping desserts so the foodster becomes the star on the day. And along with this are wonderful Christmas trees to bake in all manner of shapes and uses!
The Christmas issue has another fold out, this time a selection of beautiful images showing you how to make little food gifts, with their recipes and as a bonus, how to wrap them – and the wrap paper comes with the issue – to wit is provided in the mag! Gorgeous paper it is too!
Plus there are something like 40 pages of the Big Family Christmas Feast with budget, healthy, kids, easy and twists as variations with the recipes. It's fabulous!
How important is reader feedback to you, how do you communicate with your readers?
I can just give you two quick little examples that I give people often: during the bushfire times when we've asked readers to send in knitted squares we've received so many we don't know where to put them. They came in in droves, with letters from readers thanking us for enabling them to do something to help. And a last little one - an assistant I had a while ago said the fairy penguins in Victoria, they pick at their feathers if they get any oil on them and one of the things people can do to help is knit little woollen vests, they put the little woollen vests on the penguins and it stops them from picking their feathers. So we did a weeny little story at the back of the magazine, it was only half a page with a little knitting pattern. Oh, I think 3000 or 5000 knitted vests later, the penguin people in Victoria said please stop sending them! There's not enough penguins on the planet!
You've had an amazing career at the helm of some of Australia's favourite magazines, can you share some of the high points with us?
Look, you can't go past editing The Women's Weekly, that was amazing and wonderful although I only did it for a short time because we changed publishers and editors, but being responsible for the most iconic magazine brand in Australia is extraordinary. You have such a great sense of responsibility that it's unbelievable. Although, you had to let your ego go every so often – Ita Buttrose had been gone from the magazine for 20 years but I think something like 20% of the readers still thought she was the editor! Another high point was launching New Woman Magazine in 1989 when the notion of feminism was just beginning to reach the suburbs in earnest. We moved the idea of the magazine away from feminism to being womanly and the most important aspect was that it didn't matter what you chose to do, it was the fact that you could choose that was important.
I think Better Homes and Gardens going to a television program 20 years ago was just masterful and amazing from the marketing people at the time. Working for Matt Handbury at Murdoch Magazines has been extraordinary. That was a wonderful period for magazine production and if I could compare it to anything it would be like a sparkler in the industry just continuing to burn with excitement and thrills. It was a lovely time, loopy but fabulous! My son is probably another one, I ended up with the publisher of Better Homes and so he is the result of Better Homes and Gardens! We decided not to call him Better, we didn't think it was appropriate! So that's another high point. There've been so many, so many.
The low points?
Low points have been wonderful people moving through the industry and then going. Work issues, circulation problems and all those sorts of things, they're just part and parcel of the excitement of working with magazines. But I think the people have been extraordinary, and saying goodbye to them … and particularly those who've unfortunately died well before their time, they've been the low points.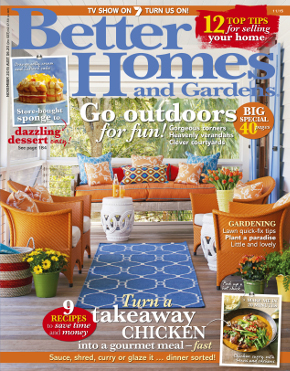 Can you nominate a magazine that you loved, or that particularly inspired or influenced you growing up?
I have to say House & Garden which is how I ended up here. I come from Melbourne and I had a boyfriend whose father worked in the advertising industry and he would bring House & Garden home all the time, I couldn't get enough of it. I would read it and read it and read it. I much more enjoyed driving around neighbourhoods looking at gardens, and going to kitchen shops, than anything to do with fashion or beauty or whatever. One day when I was reading it voraciously like I always did, he said why don't you apply for a job with House & Garden? I said, Oh, and why would they employ me? And he said – why don't you write to them, all you've got to lose is a stamp (way back then) which I thought was a really interesting life-changing sentence. So I did write to them and the stamp paid off! I came to Sydney and I ended up working for Home Journal magazine, it's now gone but that was the most heavenly experience ever. After 6 months a whole bunch of us were retrenched, and of course that was the worst thing that ever happened in my life which transpired to be the best thing because that's how I got to Better Homes.
Can you give us a sneak peak of what's new for Better Homes and Gardens, the magazine and the TV show?
Readers are very special to us; we think we might start to get them to be editors a little more, so they are creators as well as recipients of the content. We're excited about that! We're also going to be talking to them in a much broader way and we're creating a special Better Homes and Gardens family that anyone can become part of, we talk to them and they talk back to us. We're just beginning to develop this and we're so excited about it because it does give us the opportunity to actually speak as opposed to just through the magazine.
The television show goes travelling a little bit, taking the presenters around Australia, which is lovely. So we possibly will incorporate how you travel around Australia in Better Homes as well, because we forget how amazing this place is where we live. Families are so different now, it's just not two parents and two kids any longer, it's lots of amazing mixes. But fundamentally what people want remains the same, they just want a good house that becomes a home for them, they want it to be a happy place for the people who matter.
And one final question with Christmas gifts in mind – what are the benefits for subscribers? Why subscribe?
I always think that the magazine arriving at your place is a surprise and a bit of a gift when it comes like that. Matt Handbury used to say remember when you were little and you collected stamps like we all did way back then and the packet of stamps would arrive and it would be the most amazing thing on the planet. We think the same with Better Homes! Of course it's cheaper when you subscribe, and upcoming we will be adding more content for subscribers and including them in that Better Homes and Gardens family that I was talking about earlier. I'm a big subscriber to subscriptions! I think subscriptions are a whopping future for us.