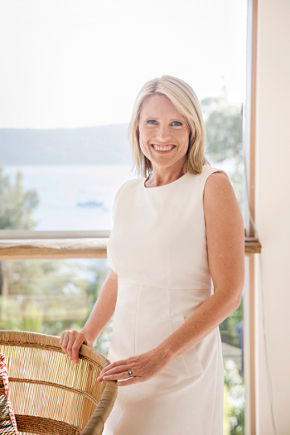 1. HB recently celebrated its 90th issue and is one of the most popular magazines in Australia, why do you think readers love HB?
There are so many amazing things about Home Beautiful as both a brand and a product. At 90 years old, it is the longest-running monthly magazine in the country, but yet, it is as relevant now as it was in 1925 – maybe even more so. The last decade has seen our sales soar and I think it's because we are a uniquely Australian home title, and our content is not just beautiful, it's attainable. This is how Australian's want to live. Each issue has around 50 pages of beautiful homes, plus kitchen features, bathroom features, a curated selection of all the best products available, and pages of inspiring ideas for making your home a place you love to be in.
2. Who are AHB's readers?
Our readers are stylish women who have broadened their style footprint to take in more than just their fashion sense. We're family women - working women who love our homes and want to make it a place that everyone wants to be. I always avoid defining it by age, because I really think it's more of a mindset. I often say that our readers are women who have made the life transition from shoes to sofas, who once defined themselves by what they wore, but now it's about their whole home. How they entertain, decorate and live, they get more retail therapy shopping for homewares than clothes!
3. AHB seems to cover a huge range of styles and homewares not to mention food and entertaining ideas in every issue, can you give us a glimpse of how the magazine comes together?
The reality is that we all lean in a few style directions, when you're renovating or decorating you decide on a style, but almost all of us fall in love with a number of looks along the way – and we'll save that look up for our next project. We have a really talented team - most of the staff have been here for as long as I have so we've worked together a long time. Every one of us absolutely love the magazine, we've always got a couple of projects going on and each is discussed in detail, pictures shared and choices bounced around. We are all very much living the brand I guess, so we are always looking to create and find new ideas we can share with our readers. Home isn't about a renovation, that may be the journey, but the destination is having a home that you love to live in. All of our ideas are generated by the editorial team, we brainstorm it with all the departments so the photography, words and products all work perfectly together. Some features are photographed first, some are written first, but all are done with a holistic approach.

4. AHB's gorgeous Christmas issue is on sale now - we've spotted the stunning beach 'white Christmas' feature and mouth-watering food, can you tell us a bit more about what's inside?
We start working on our Christmas ideas in about June, this year we all had a big Christmas in July lunch and we all talked about what we wanted to do for Christmas this year. We talk about the general ideas, like the colour schemes we want to create, right down to new ideas for wrapping presents. But, really, it's all about the food, and for us, how the food will be displayed on the table. Our readers aren't just cooks, they are entertainers, and they want great ideas for how to bring the whole day together and create a truly welcoming atmosphere. So our food is designed as part of an overall theme, be it a good traditional Christmas lunch with all the trimmings, or, a truly Australian seafood feast that can have your whole family lounging around grazing for hours. We've also pulled together some very unique ideas for Christmas gifts (I always use our guide as my Christmas gift inspiration), as well as some great ideas on getting your home ready for the influx of guests that tends to happen at this time of year!
5. You are only the 10th editor of HB magazine, what has been your approach and vision for the magazine? What are the joys and challenges of your job?
My vision for the magazine is to give our readers more of what we know they already love. Over the last decade, we have really focused on increasing our content and continually building on the quality of both the content and the magazine itself. We have around 48 more editorial pages on average now than we did 10 years ago, our magazine is wider and taller and our paper is higher quality. It's all added to the feeling luxury our readers get when they steal some time for themselves to curl up and lose themselves in our pages. The joy is just the amazing experience of working with such a talented, creative team of people, and the challenge is to continually push ourselves to do things better and better every issue!
6. Has your role as a judge on Channel Seven's House Rules changed the way you approach the magazine?
I don't think it's changed the approach to the magazine as such, but it's definitely heightened the 'team approach' we have to putting it together. The senior staff of Home Beautiful are highly experienced – many have actually been editors of magazines themselves. That depth of talent, combined with the fact that we have all worked together for so long has been a huge asset with the addition of House Rules. I travel quite a bit with the show, it's much easier to manage when you have a team like this.
7. What's new for AHB next year? Can you give us a sneak peak of what's coming up?
We have some great initiatives that build on the idea of 'Living your creative life'. So many of our readers have a creative spirit, and we are finding new ways to help them develop that. The magazine as a brand is continuing to grow, our app - House Rules powered by Home Beautiful - has been a great addition to both brands, and we are extending the concept further next year. Our audiences are such active improvers, our aim is to be with them for as much of their creative journey as possible. Giving them easier access to the style and products we know they will love is definitely our push for next year – watch this space!
8. What are the benefits for subscribers? Why subscribe?
There is nothing better than having something you love delivered directly to you. We all have so many things on our to do list, the idea that inspiration is packaged and delivered without you having to think about it is incredibly attractive. It's not just the fact that subscribers get such a good price – it's like a monthly permission slip to just take some time out for yourself and relax. I think it's good to know that our focus is always about making the magazine bigger and better, and the subscribers get the best of that. jubbly gift.