MH is our most popular men's title, what do you think readers find in MH that they can't get elsewhere?
At Men's Health, our editorial philosophy has always been really clear – we set out to give men the tools they need to lead better lives. Every story in the magazine is full of expert tips and practical advice to help our readers become healthier, happier and more successful. Whether you're trying to get in shape, ask your scary boss for a pay-rise, or find the ultimate hangover cure, you'll find the answers in Men's Health. That's our key difference from other men's titles - we don't just set out to entertain. Our goal is to disarm our readers with humour, then arm them with life-changing info.
What are the benefits for subscribers? Why subscribe?
An MH subscription is like getting a friendly nudge each month to take control of your mental and physical wellbeing. Of course, subscribers get a drip-feed of top stories about how to get fit, beat stress, lose weight and cook great recipes. But, more importantly, they get a regular dose of inspiration. We want to help readers seize control of the trickiest aspects of their lives. Their relationships. Their careers. Their waistlines. Men's Health is a magazine with a genuinely positive message and monthly exposure to that through a subscription hopefully inspires our readers to start (or maintain) a healthy lifestyle. Plus a subscription is much cheaper too!
What's the biggest misconception about Men's Health?
Some people look at our covers and dismiss the results as being unattainable or unrealistic for regular guys. That's simply not true. To prove it we run annual staff challenges to demonstrate that ordinary people can achieve extraordinary results. We just finished one for our November issue in which three staffers underwent a 10-week physical challenge. Our editorial coordinator lost 13kgs in 10 weeks! Our senior writer - who was a skinny beanpole - stacked on 7kg of lean muscle! We ran this story to show what you can achieve in a short amount of time. Similarly, earlier this year we helped Larry Emdur get into phenomenal shape for his 50th birthday. It was an inspiring story because it proved you're never too old to get into the best shape of your life.
All the people I've just mentioned are busy men juggling hectic careers and family commitments. We don't target hardcore gym junkies who exist on a bleak diet of kale and protein shakes. We're a magazine for active, performance-driven men who want to squeeze the most out of life. Yes, they want to stay fit and healthy (who doesn't?). But they also want to catch up with their mates on a Friday night, forge successful careers and evolve into better husbands, fathers and lovers. There's more to life than going to the gym seven days a week and the content in Men's Health reflects that. After all, if you don't have any balance, you're going to fall over.
Tell us a bit about the December issue??
Jarryd Hayne, the rugby league superstar who's following his dream to play American Football, is a massive story right now. To tie in with that, we've interviewed four of the biggest names in NFL to share their elite fitness secrets so that our readers can raise their own games.
Summer is upon us so we take a look at healthy barbecue alternatives to cook outside this summer. There's also a story about how to conquer the effects of pollen so you can enjoy an allergy-free summer. Plus, the silly-season is looming, so we've published the blueprint on how to throw the ultimate summer party full of tips on everything from how to master the art of small-talk, how to effortlessly feed a large group and even how to deal with that annoying drunk bloke who doesn't know it's time to go home yet.
For the cover, we shot the UFC middleweight champ, Chris Weidman, in New York. I find him fascinating because despite being one of the toughest men in the world, he's also incredibly laid-back and an utterly devoted family man. We look at how Chris has mastered the art of compartmentalization - how to wear different hats at work and play. I couldn't believe it when we shot Chris – you expect professional fighters to be battered and scarred, but he showed up looking like he's stepped off the set of a shaving ad. I guess he must be pretty good at his day-job.
What's coming up for MH?
Right now, I'm completely immersed in our January issue. I've just read a cracking story for that called "Life's Toughest Conversations & How to Survive Them". It delivers first-person accounts of some really challenging scenarios – ending a relationship, coming out of the closet, giving someone the sack – and then gives expert tips about how to make those life-changing discussions as trouble-free as possible.
Moving further ahead, I feel really lucky to be editor of Men's Health going into an Olympic year. The motto of the games is "faster, higher, stronger" and that's a message that deeply resonates with a magazine that's dedicated to self-improvement. We're going to be profiling a different Olympic hopeful from January up until the games so that our readers can steal their fitness and nutritional secrets.
What else? Our Men's Health Man competition – in which a reader wins the chance to appear on the cover – is back and will be bigger than ever. We've got a really exciting tennis issue lined up to tie in with the Australian Open in January. Oh and in February we've got a special edition based on the theme: "Money, Sex, Power". We'll be showing our readers how to collect all three!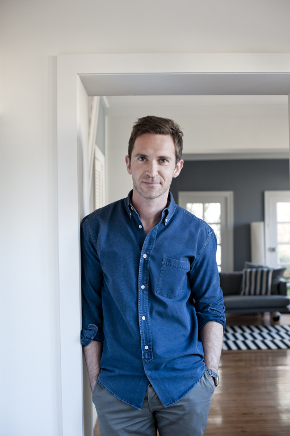 How has Men's Health changed and what's important today?
A magazine lives and dies by the strength of the underlying idea that drives it. At Men's Health we're still intent on giving men the tools they need to lead better lives. But while that message hasn't shifted, Australian men have changed and our content mix reflects that. That's why we're doing more food than we've ever done before. We're doing more grooming and style coverage, more tech and travel. We address the topic of fatherhood a lot more, too. Modern Australian men expect to be more actively involved in their children's lives– something that's undeniably a good thing. So at Men's Health it's not a case of revolution but evolution.
What are the joys and challenges of your job?
The joys are manifold. I still get such a thrill when I read a great story by one of the Men's Health writers or see a dynamic photo-shoot that out Creative Director has commissioned. I feel really lucky to work with an incredibly talented team of writers, editors and designers.
Men's Health is a special title to work on. The basic message – take one step today to become a better man tomorrow – is so positive and life-affirming. For me, that defiant optimism has proved to be contagious. I've been at Men's Health for seven years now and it's definitely made me a healthier and happier person.
In terms of the challenges – over the last five years, Men's Health has evolved from being a magazine to a multi-platform brand that can reach men through our website, apps, events, books and social media. It's a thrilling time of evolution for the brand. The challenging thing? I just wish I had two sets of arms to try and get everything done.
How did you get started in magazines?
I grew up in England (Australian mum) and read English and American Literature at Manchester University. I got involved in the student newspaper and decided that I wanted to break into journalism. After graduating, I wrote some freelance articles for a couple of newspapers and did heaps of unpaid work experience. For a year, I applied for a zillion jobs and received a zillion rejections. Eventually, I got a breakthrough and landed a position as an online editor for eurosport.com covering European football. The best bit? The role was in Paris! I moved to France the following week. I was 23.
After a year in France, I returned to London and got a job on the website for The Sun newspaper as an online reporter. On Saturdays, I did a regular shift as a sub-editor on the sports desk at The Sunday Times and I also got to write a few book reviews and the off features for The Times. I was hungry for experience and put my hand up for anything. Getting exposure at working for broadsheets and tabloids was useful because I learnt to adapt and write in different styles and voices.
While I was in Paris I'd fallen head-over-heels for an Australian girl who had to return home so I decided to move to Melbourne. I picked up a few subbing shifts at The Age and started writing a lot of freelance features for magazines like GQ and Inside Sport. Eventually, I landed a full-time gig as the staff writer for Preview, which back then was the arts and entertainment supplement for The Sunday Age. It was a brilliant time. I got to do a lot of celebrity interviews with people like Cameron Diaz and Jodie Foster. But more importantly, I had a great editor in Karl Quinn who was really generous with his time and taught me a hell of a lot.
At this stage, I'd decided to stay in Australia and wanted to move to Sydney as that was where all the magazines were based. When I heard that an independent magazine called Dazed & Confused was launching, I wrote to the publishers and said that if they were looking for an editor I wanted to throw my hat into the ring. Looking back I probably wasn't sufficiently qualified, but I figured I had nothing to lose. That was in 2006 and I've worked in magazines ever since and feel priveliged to have done so. For me, magazines still deliver the ultimate marriage of words and pictures. They're an unusually brilliant invention.