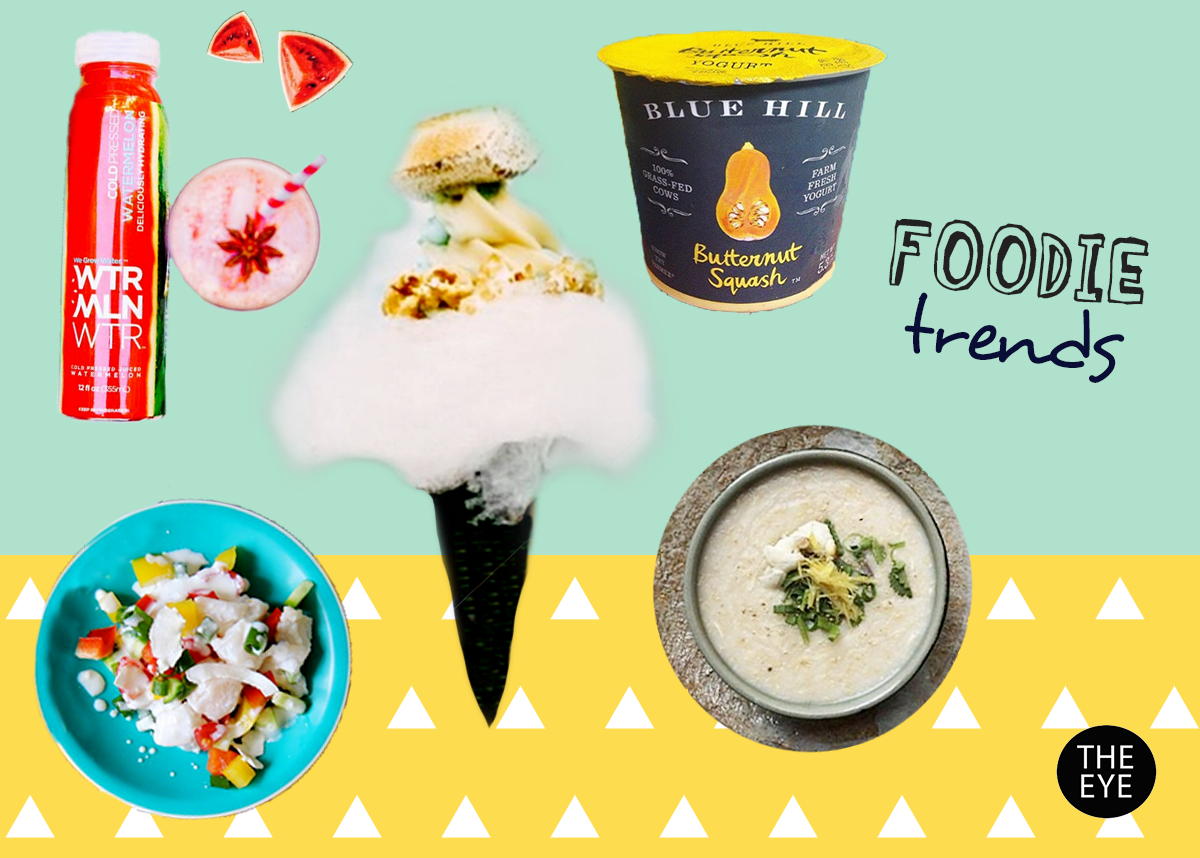 images care of: @wtrlmlnwtr @bluehillyogurt @Bigpoppas_syd @matcha_mylkbar @Giklive @Aquas_au @zerodegreesco @Zumbocafe @pokeaustralia @boon_cafe
Cold Pressed Watermelon Juice
If we go by that old adage of 'If it's good enough for Beyoncé then it's good enough for me,' then WTRMLN WTR – which Queen Bey bought shares in this year - is set to be THE beverage of 2017. Like 'sticking a straw in a melon,' it's simply pressed watermelon flesh with a squeeze of lemon to preserve.
Savoury Yogurt
Smooth and creamy just like regular yogurt but flavoured with veg for a savoury, subtle tang. The brainchild of American restaurant and dairy Blue Hill, the yogurts come in four varieties: carrot, beetroot, squash and tomato. Comparisons are being made to sour cream, but in their glass pots and vibrant colours they look deceptively fruity. Get set for a brain conundrum.
Blue Beverages
It all began with Matcha Mylkbar's 'Smurf Coffee' which is a concoction of lemon, ginger agave, coconut milk and, the star ingredient, E3 live blue algae powder. But blue drinks are fast becoming a fad, like the not-so-healthy Corpse reviver Mali-blû from Big Poppas in Sydney, which a devilish combination of gin, lillet, blue Curacao, coconut rum, lemon and absinthe, and even blue wine from Spanish brand Gik. Joni Mitchell will be delighted…
Crazy Cones
Last year it was the milkshake that got the monster treatment and now it is the humble ice cream cone. Whether pimped up with candy floss and toasted marshmallows like at Aqua S, salted caramel pretzel sundaes and waffle fish cones from Zero Degrees, or the ridiculously decadent donut cones at Zumbo Café, ice cream has never been so divine.
Hawaiian Poke
Polynesian food is having a moment stateside for a while, and has been slowly making its way over here. Pronounced 'POH-keh' it is essentially a raw fish salad. Often served on a bed of rice, bright fresh chunks of either tuna or salmon are marinated with lime, soy and sesame alongside salad and avocado. Leading the way is Poke, 'Australia's first poke shop' in Coogee, NSW, which has an unbelievable selection of fresh fishy delights. Perfect for that New Year's detox.
Congee
Forget avocado on toast (yeah, you heard us!) congee is the hot new breakfast in town. Originally from Asia, this is a warm and savoury rice porridge. Sydney's boon café has been offering congee for a while now, and whether flavoured with spicy ginger chicken or the subtler saltiness of crab, it is the kind of meal everyone ought to be starting their day with.
---end---