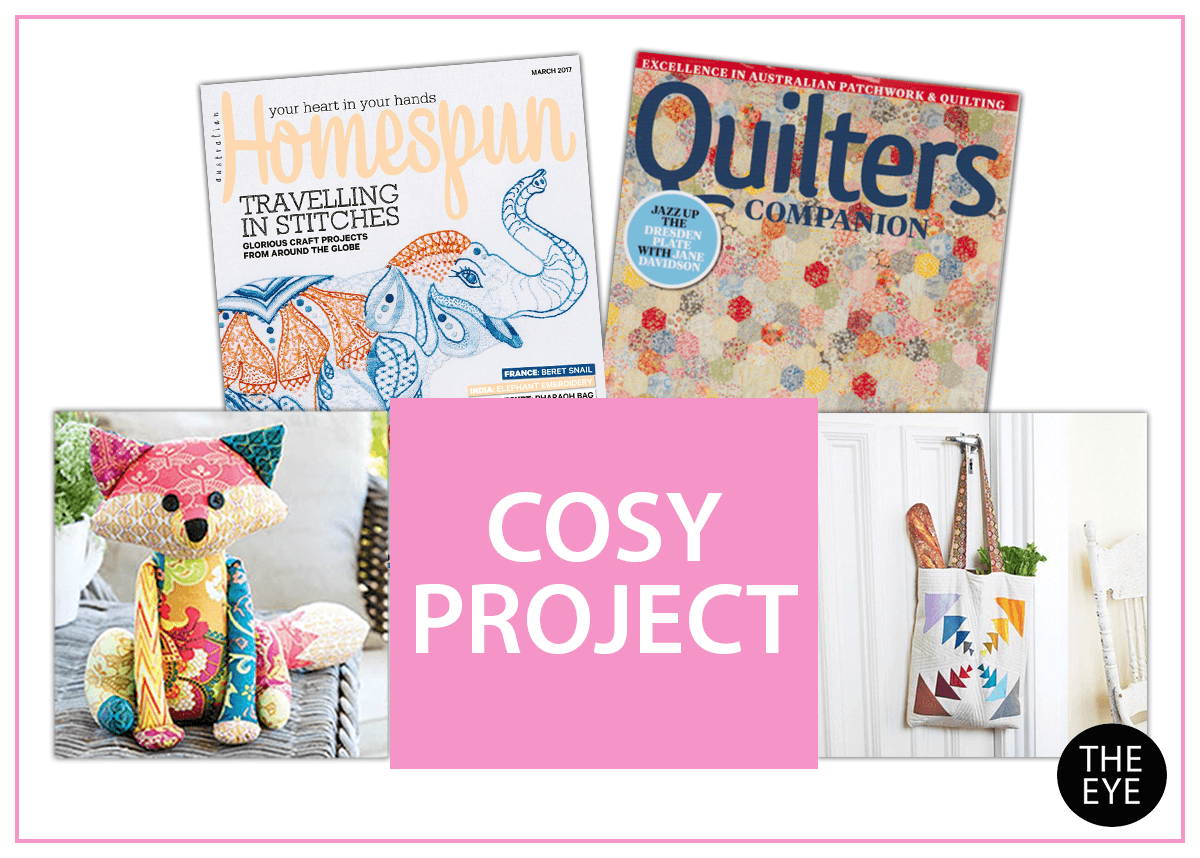 Love quilting, knitting and all things craft? Then get yourself over to Cosy PROJECT, where almost anything is possible once you put your mind to it. Founded in February of this year by Emma Perera, and backed by Universal Magazines, Cosy PROJECT provides a platform for budding creatives to purchase patterns, learn new skills via online tutorials and also connect with like-minded folk the world over.
"Today everyone wants to develop their skills in their favourite pastimes, including crafting, but with life being so busy they find it hard to find the time to make it to classes or find the right teacher nearby," explains Emma. "Cosy PROJECT solves that in one easy way, by opening up online access to the huge library of top-quality craft classes, guides and patterns from the pages of leading magazines Homespun and Quilters Companion."
The boom in crafting's popularity can only be enhanced by this beautifully styled website, which features 1-2 hour long video tutorials, led by expert teachers, and supported by step-by-step instructions from trusted magazine editorial teams.. And far from the clichéd idea of being locked away with only a sewing machine for company, modern crafting online classes means readers are able to follow along and problem solve with world class teachers and celebrate their hobby at the click of a mouse, thanks to Cosy PROJECT's truly global community of users.

"Online classes also allow users to learn at their own pace - buyers love that they can slow down and repeat harder steps as well as take the classes to fit in with their own schedule." Emma continues, "There's no worse feeling than leaving a class feeling like you can't remember all the details, or you're unprepared to make the project on your own. This way, once you buy an online class, you own it, and it's yours to access and refer to whenever you want."
The inspirational voice behind Cosy PROJECT also busts the myth that you need to splash a lot of cash to create something you will treasure, explaining that while it is of course possible to source sumptuous fabrics and fancy machines, that's certainly not a necessity. "It's about time and attention to detail, not money. And the rewards are huge - a small but beautiful hand embroidery only requires very affordable threads, needles, fabric and a hoop," she says, "but will look fantastic."
So… where to start? "Well, I'm always telling people to begin with something that they're interested in. For example, if you've seen your mum quilting and feel inspired by that then try that area, or if you love fashion and would like to make something you can wear, try knitting a scarf or jumper. Start with something that appeals to you so you stay motivated, then flourish!"
To check out more of the Cosy Project click here.
For a super cool, FREE TOTE BAG pattern click here.