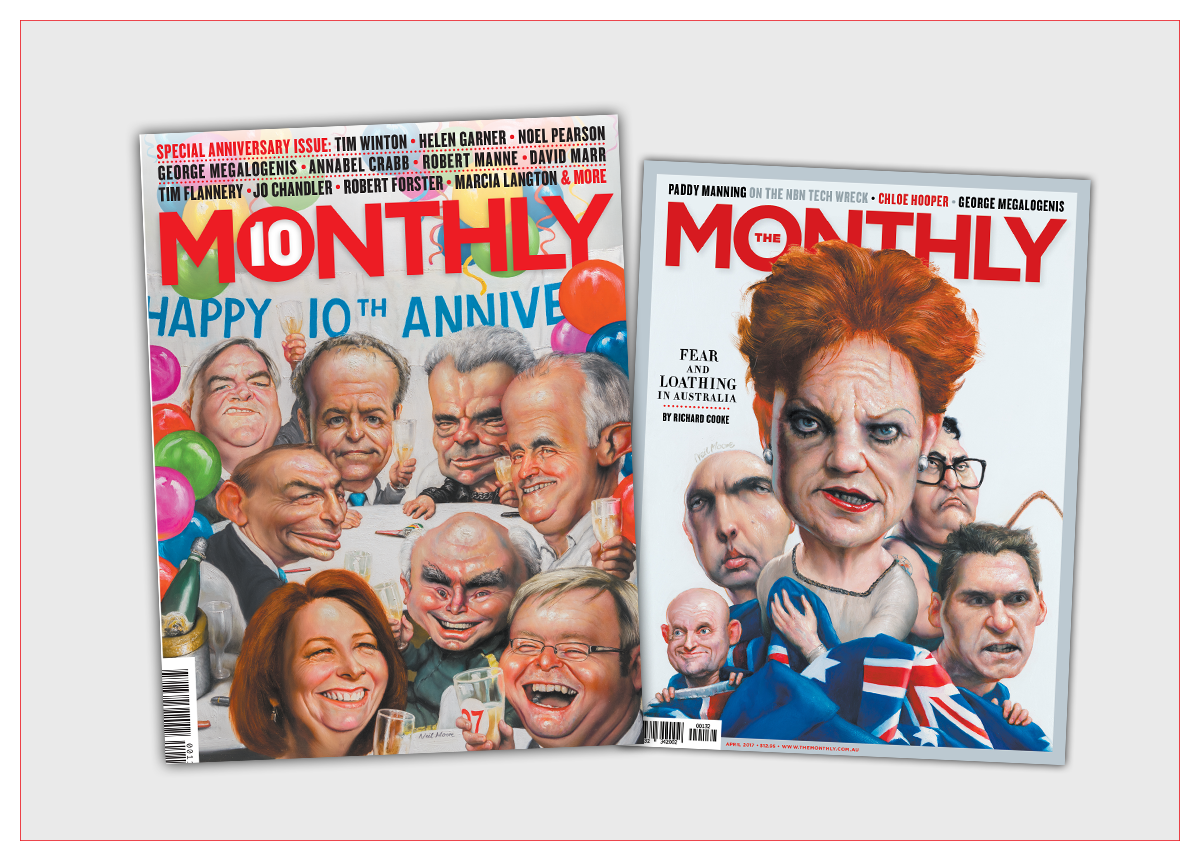 1. What can readers expect from the Monthly that they can't find elsewhere?
That one's pretty simple: every month, our readers expect the country's finest writers telling the most important stories. Whether it's in print or online, it's getting harder to find great, long-form writing on politics and current affairs, and serious cultural criticism. So that's what we concentrate on.
2. Who is the Monthly reader?
Luckily our readers have a variety of different interests, but the thing that brings them together is that they all seek a greater level of depth and nuance to their own opinions and to their understanding of the world. They only want the sharpest perspective on Australia's politics, economy, environment, social issues and cultural landscape, as well as stories about our biggest personalities and major controversies.
3. What's the role of the Monthly in Australia?
To elevate the level of in-depth discussion around the things that really matter. We exist to provide a forum for Australia's very best writers and journalists, and to create an approachable and interesting environment for our readers to really enjoy this kind of writing.
4. What has been your proudest moment so far since taking over as Editor?
Longevity in this business is getting rarer. So the magazine's 10th anniversary issue (May 2015) is definitely a standout – and not just for the milestone reached. It featured some of my all-time favourite Australian writers, including David Marr, Tim Winton, Helen Garner, Robert Manne, Annabel Crabb, Tim Flannery, Marcia Langton and George Megalogenis. Not a bad way to celebrate really.
5. Have you come across any up and coming leaders inside the political parties, or outside in the public arena, we may not have heard about that are ones to watch?
There are several organisations outside politics that are worth watching because they have an outsized influence on national debate at the moment, especially the Australia Institute, the Grattan Institute and GetUp. In parliament, we will watch the Nick Xenophon Team with interest, we are always interested in what Greens Senator Scott Ludlam has to say, and have enjoyed seeing the emergence of many impressive Labor women, such as Anne Aly, Terri Butler and Clare O'Neil. We hope too that Indigenous parliamentarians Ken Wyatt, Linda Burney, Pat Dodson and Malarndirri McCarthy can have a major impact on Indigenous affairs as well.
7. Arts and culture feature quite prominently in the Monthly, including a regular annual issue, which is unique for a strong political and current affairs magazine. Why is that and what do you think it adds to the conversation or message of the Monthly?
No one in Australia seems to be taking culture seriously anymore and that's a real shame. We think long-form arts criticism is crucial, but it's not just about reviews. We always aim to explore broader cultural themes and publish writers who have an important point to make through an arts and culture lens. Our focus is on film, television, music, books and visual arts, but more importantly, on giving the very best critics in the country a voice.
8. What is coming up for the Monthly this year that we can get excited about? New developments, feature issue or other.
Well on that same topic, we're really ramping up our arts and culture coverage this year. Our aim is to be the home of serious cultural criticism in Australia and the first place people go when they want thoughtful and engaging ideas on art and culture.
9. Do you think it's important that strong investigative and long-form journalism is published in print? Why?
It certainly is. Some issues and subjects just can't be adequately explained in a few hundred words. Imagine trying to explain something as complex as the entire NBN rollout in a page or two. Or trying to investigate the Royal Commission on Institutional Responses to Child Sex Abuse and the subsequent fallout. Comprehensive, well-researched and well-written versions of these kinds of stories are necessary for the health of our nation, but are increasingly hard to come by in Australian media. To us, they're absolutely crucial.
10. What do you love most about your job as editor?
Getting to working with the best writers in the country on a daily basis. These are people who I've respected for a long time and who can consistently impress me with their ability to tell important stories in fresh and engaging ways.
11. Lastly, why should we subscribe to the Monthly?
Because you won't find this level of depth and quality in any other magazine in Australia.
---end---