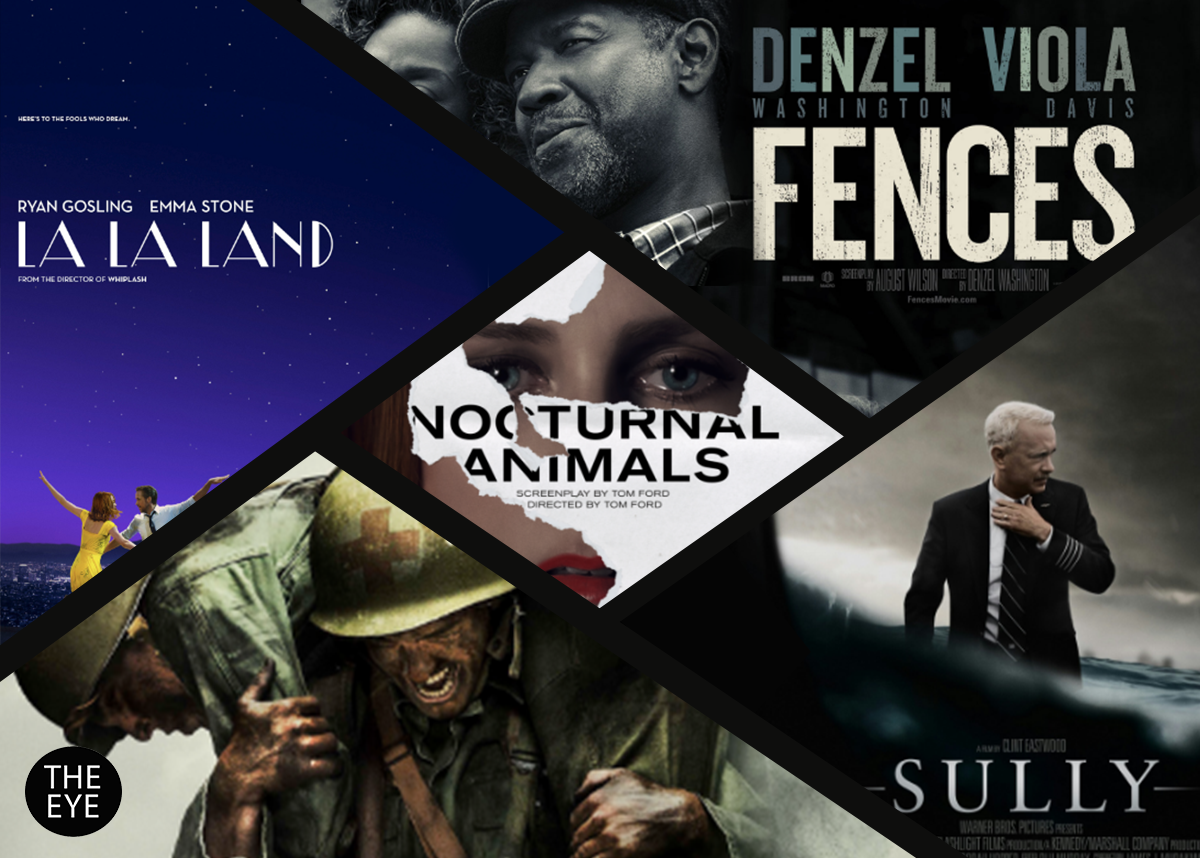 NOCTURNAL ANIMALS Directed by Tom Ford. Starring: Amy Adams, Jake Gyllenhaal, Michael Shannon & Isla Fisher
The second cinematic offering from designer-turned-director Tom Ford, Nocturnal Animals is a neo-noir psychological thriller already making waves in time for award season. Starring Amy Adams – whose character Susan is haunted by the harrowing depiction of her and ex-boyfriend Edward's (Jake Gyllenhaal) life in the latter's new crime novel – this film has already scooped the Grand Jury Award at the Venice Film Festival.
LA LA LAND Directed by Damien Chazelle. Starring: Emma Stone, Ryan Gosling, JK Simmons & John Legend
A musical? Winning an Oscar? Quite possibly. Cast your mind back to 2001, when Moulin Rouge! was nominated – albeit unsuccessfully – and you might see how this romantic comedy-drama starring the all-singing, all-dancing pair of Ryan Gosling and Emma Stone as struggling actors in Los Angeles is already being touted as a favourite for the prestigious award.
FENCES Directed by Denzel Washington. Starring: Denzel Washington, Viola Davis & Stephen Henderson
Mel Gibson, Clint Eastwood, Woody Allen – these are the legendary names Denzel Washington is hoping to emulate with Fences, a drama which he both directed and stars in as a former Negro League baseball player turned waste collector who is struggling to provide for his family. Expect to see Viola Davis – who recently made a star turn in Suicide Squad – on the ballot for Best Supporting Actress too.
SULLY Directed by Clint Eastwood. Starring: Tom Hanks, Aaron Eckhart & Laura Linney
All-American screen legend Tom Hanks is no stranger to an Academy Award, having been the only person to secure two consecutive Oscars for Best Actor for 1993's Philadelphia and 1994's Forrest Gump. Now he takes on the role of Chelsey 'Sully' Sullenberger – the pilot who safely landed an Airbus A320 on the Hudson River in 2009. With Clint Eastwood at the helm, Sully is sure to be exactly the kind of tale of daring heroism that the Academy usually rewards with a win.
HACKSAW RIDGE Directed Mel Gibson. Starring: Andrew Garfield, Sam Worthington, Teresa Palmer, Vince Vaughn & Hugo Weaving
He's back. Hollywood-heavyweight-turned-social pariah Mel Gibson has returned to the fold with his first directorial effort since 2006's Apocalypto. Hacksaw Ridge details the incredible efforts in WW2 of conscientious objector Desmond Doss who, despite refusing to carry a weapon, saved the lives of 75 comrades during the battle of Okinawa. The real-life heroics of Doss – played by Andrew Garfield – combined with the unflinching realism of Gibson's direction may well make this film the vehicle through which Gibson not only gets accepted back into Hollywood, but also adds to his singe Oscar win for 1995's Braveheart, which he both directed and starred in.
---end---