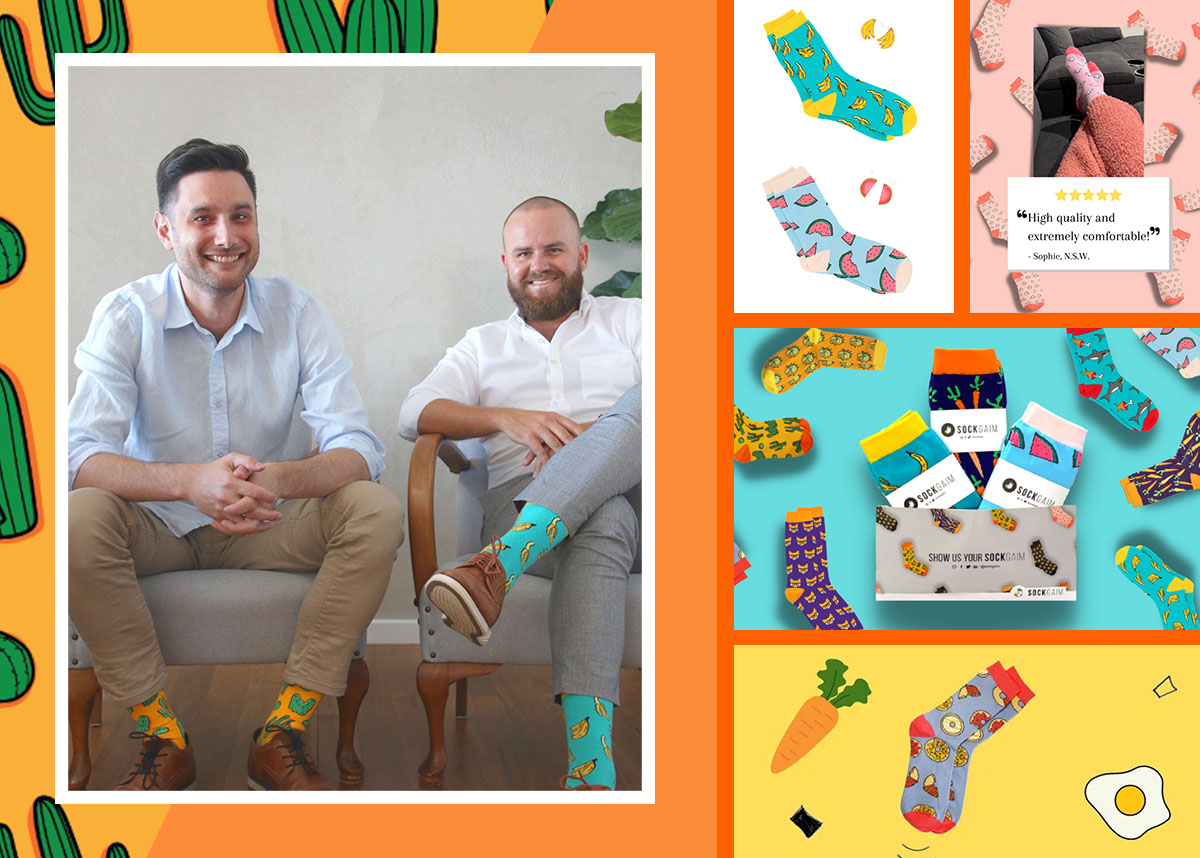 WHAT IS SOCKGAIM? WHO IS IT FOR, WHAT'S ITS PURPOSE & WHAT'S INCLUDED EACH MONTH?
Obviously ideal for any sock enthusiast, but our sock subscriptions are the perfect gift, because it's the gift that keeps on giving.
We have an Adult sock subscription (within US sizes 5-13). Whether others can see them or they're your little hidden secret, you'll feel fantastic and express your own unique creative style like never before. Something really unique for that person that's so difficult to buy a gift for. They're great for wearing around the house or adding a colourful funky design to your outfit.
Kids sock subscription (3-6yrs) - Surprise the little human every month with quirky, playful and absolutely adorable socks! Whether they're a pair of funky shark socks with plain pyjamas or a bright banana pair for a playdate, they'll love their Sockgaim socks.
Matching adult & kids socks subscription - a bit of fun for the whole family. What better way to combine the best of both of our most popular subscriptions than a matching adult and kids socks subscription. The whole family can get their #sockgaim on.
Matching earrings and sock subscriptions. This is a monthly dose of funk for your feet and your head. Want to know the best part? All earrings are hand-painted by Australian artist Daisy and Ray! With so many creative designs to choose from, you get to experience art in its best form and support deserving Australian artists.
On top of all this awesomeness we offer free delivery Australia-wide.
WHAT CAN SUBSCRIBERS EXPECT FROM SOCKGAIM IN THE COMING MONTHS?
Every 30 days you'll receive a new pair of vibrant, playful socks designed by Australian artists.We currently have 16 designs that include; juicy watermelons, fin-tastic sharks, ap-peeling bananas, egg-static eggs, fluffy clouds, dancing dinos, foxy foxes, fine-apple pineapples, classic cactus, crisp carrots, delicious donuts, badass burgers, milk & cookies, slamin sushi, rockin robots and sharpe shapes.
If someone takes up the earrings subscriptions we have 6 super cute designs they'll receive every month.
We're always looking for more inspiration for both our socks and earrings. We love working with local creative artists so if you have any ideas for new designs we'd love to hear from you on socials @sockgaim.
HAS COVID IMPACTED YOUR APPROACH TO SOCKGAIM OR WHAT SUBSCRIBERS WANT FROM THE BUSINESS?
Funnily enough, Sockgaim found me during COVID. I ended up staying in Australia after coming home for a wedding, as my employer in the UK informed me the night before my returning flight my full time contract would no longer be honoured.
I was in the fortunate position to take a step back from life and reflect (like I am sure many people did). My mate was going through something similar and we decided to purchase an e-com business together. Then boom, a business called Sockgaim came up for sale and we've never looked back.
IF YOU HAD A MOTTO, WHAT WOULD IT BE?
Making the world a brighter place one pair of socks at a time.
With everything we do at Sockgaim we try to do some good. We work with charities providing custom designs for their fundraisers including;
RUN DIPG, a charity dedicated to improving outcomes for patients and their families impacted by the brainstem cancer, diffuse intrinsic pontine glioma (DIPG). Lemonade Crew share the message of living your best life and awareness of Motor Neurone Disease (MND). Their goal is to show others that under really challenging circumstances you can still make Lemonade all whilst promoting awareness and understanding of MND.
Port Macquarie Koala Hospital who care for up to 250 koalas every year. With their main focuses being on the rescue and rehabilitation of koala's impacted by habitat loss, disease, motor vehicles incidents, dog attacks, storms and bushfires. Being able to offer our resources to charities for their fundraisers is extremely rewarding and something Sockgaim wants to continue focusing on as we grow our Socks For A Good Cause range.
IF YOU COULD BE ANYONE FAMOUS FOR A DAY, WHO WOULD IT BE AND WHY?
Sir David Attenborough. Could you imagine what it would be like to have seen the world like he has & the knowledge he has accumulated?
I truly envy the experiences he has had, seeing some of the most remarkable natural events, ones that people can only experience by watching his shows.
And I don't think anyone would be able to argue his impact on multiple generations and how we see the planet.
WHY SUBSCRIBE TO SOCKGAIM?
Why not? Socks don't have to be boring. Our monthly sock subscription features a surprise pair of socks delivered FREE to your door Australia-wide each month.
Our socks are all unisex, mid-calf length, and feature limited-edition original designs by Australian artists. They are cosy and comfortable, crafted from 80% combed cotton, 17% polyester, and 3% elastane for a perfect feel and fit. For just AUD $16 per month, you'll have the trendiest feet around!
You're supporting Australian artists and two mates building a business together.