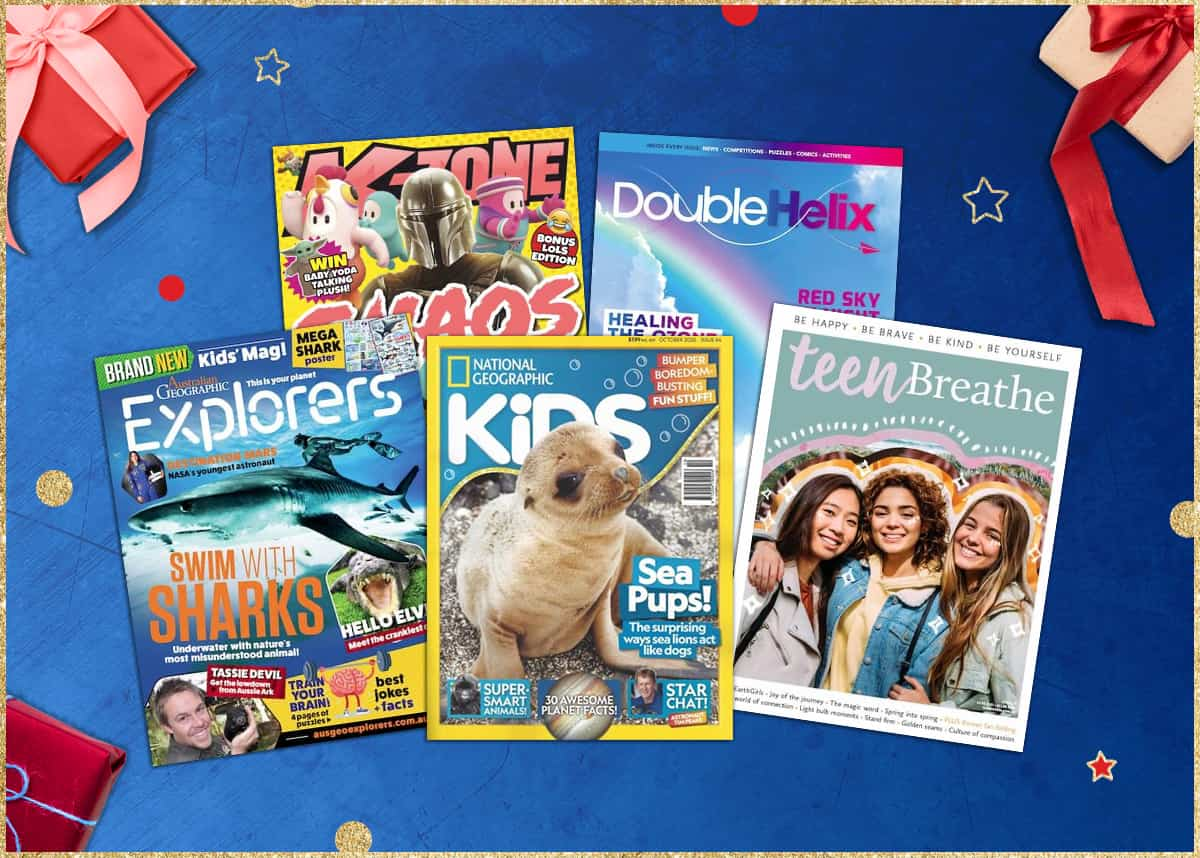 National Geographic Kids
For all those budding explorers, archaeologists, scientists, artists and astronauts, National Geographic Kids magazine is the one!
Just as fascinating as the grown-up edition, it's broken down into bite size chunks for younger minds. The photography is amazing, with lots of incredible, cute animal pics to pore over plus there's also a ton of puzzles, games and quizzes for hours of fun. (Best suited for ages 6-14)
Subscribe to National Geographic KiDS
Double Helix magazine
If you've got future scientists at home, then Double Helix magazine will blow their minds! Developed by the clever bunch at CSIRO, this magazine promotes critical thinking and aims to strengthen literacy skills while sparking an interest in science, technology, engineering and maths. (Best suited for ages 8 – 14)
Teen Breathe
Be Happy. Be Brave. Be Kind. Be Yourself. This is the mantra of Teen Breathe magazine for teens age 9-18 years. Inspired by the older sibling Breathe magazine for adults, Teen Breathe focuses on what matters whether that be social media, sport, making friends or flowers, while providing tips, fun activities and ideas for staying positive, being curious and bringing out the best in you.
Australian Geographic Explorers
NEW Australian Geographic has launched its very own kids magazine, Australian Geographic Explorers for kids that love to know about the world around them, particularly on their home soil. With an emphasis on Australian wildlife and nature, Australian Geographic Explorers includes a feature poster every issue, animal fact files and pages of stories, jokes, activities and science.
Subscribe to Australian Geographic Explorers
K-Zone
If your kids love it, it will be in K Zone! For boys and girls age 6-13 K-Zone is a universe of fun, covering everything from Batman, Star Wars, Pokemon and Mario Brothers to pranks and gags, puzzles, quizzes and sport. This is a mag for the cool kids, no grown-ups allowed! (Best suited for ages 6 -13)
For more ideas, visit our Gift Shop where you can browse all the bestsellers.