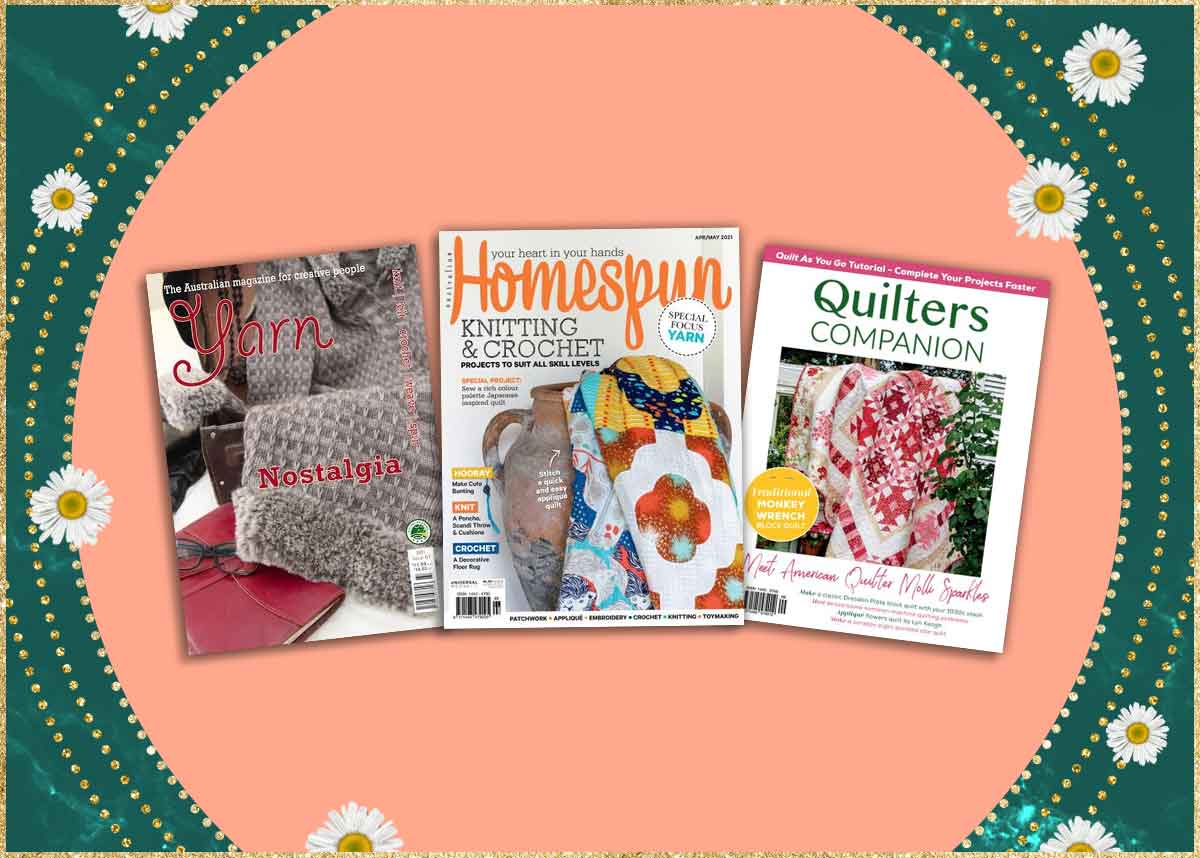 Homespun magazine
Homespun magazine is considered 'pure craft heaven' and Australia's no.1 home of craft. With monthly inspiration and ideas, and easy step-by-step projects from the world's best, it blends classic crafting projects based on a stitch, with the contemporary, like Upcycling fabric leftovers. New and exciting projects cover everything from quilts, cushions and bags, to dolls, wall hangings and so much more. Inspire Mum's natural creativity with this awarding winning quintessential craft publication!
Yarn Together subscription box
Yarn Together is a monthly subscription box of beautiful artisan yarn from Australian producers and designers, together with a crochet or knitting pattern and a surprise crafting item. Think of soft, cream Australian merino wool with a touch of sparkle or gorgeous lemon tea Nundle 12 ply wool. This is an amazing way to support both Australian producers and designers and your Mum's desire to create more with her hands. Deliver your Mum a beautiful monthly yarn box while joining her up to a community of fellow subscribers and crafters who can share their design success and mishaps and inspiration. The patterns focus on beginning to intermediate crochet and knitting levels.
Shop Yarn Together Subscription Box
Quilters Companion magazine
There is nothing quite like a homemade quilt and nothing more satisfying than creating it yourself, particularly your very first quilt! Every issue of Quilters Companion features ten, exquisite patchwork and quilting projects, each with their own pattern and instructions. Plus, Mum will be taken through the studios of Australia's talented quilters and artists as well as lush, styled pages of beautiful quilts in gorgeous homes.
Postix subscription box
Postix is every Mum stationary addict and chief organisers' dream - with a penchant for colours codes and labels! It's fun for the whole family or just treat Mum. Postix Sticker Club offers a range of specially designed collections for 'busy ladies', students and youngsters providing a monthly, continuous dose of colourful, dazzling fun. Give Mum the affordable gift of jazzing up her diary, to do lists, office files or home craft box corner. There are a bunch of options to explore!
Yarn magazine
For the love of YARN! If you're Mum is the kind of person who likes to follow a thread, yarn magazine is for her. Yarn magazine is 10 years old and continues to build its reputation for original patterns that have never been printed before covering kntting, crochet, felting, spinning and weaving. Yarn also champions the yarn ecosystem, from emerging designers to manufacturers and technical experts with engaging articles. This is the magazine to help Mum create beautiful, unique pieces whilst providing a window into a unique, creative world.