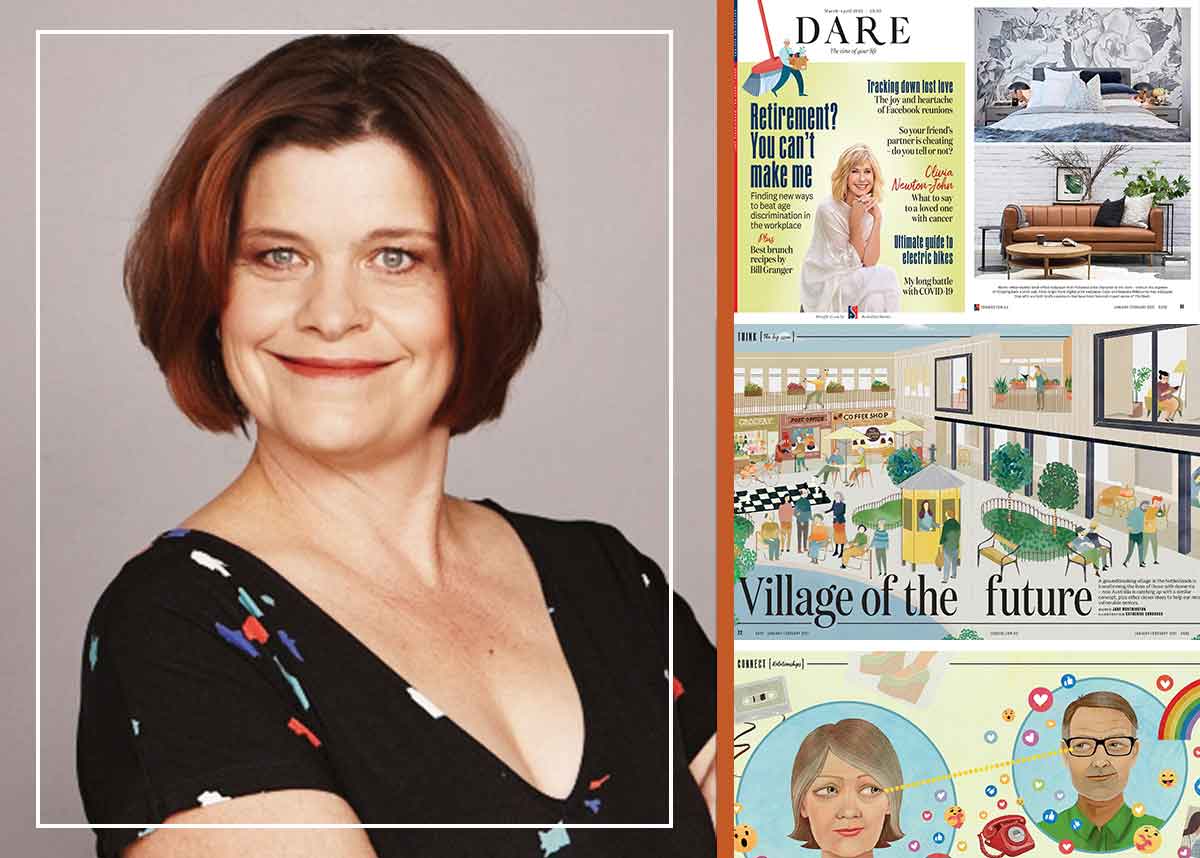 WHAT IS DARE MAGAZINE? WHO IS IT FOR AND WHAT DOES IT COVER?
DARE is an exciting magazine firmly aimed at Australia's over 50s. This generation is made up of true trailblazers – growing up in a time of massive social change, and today living their lives with passion and purpose. DARE rejects the idea that the senior audience needs old-fashioned stories – it is packed with features to give life more meaning and fun. DARE, published for Australian Seniors, goes to over 100,000 Australians. It covers travel, food, homes, big issues, finance, health, relationships and puzzles. You will read about everything from a trend to adopt special-needs pets, to grandparents crusading for environmental change, and an answer to the thorny question: Does sex get better with age? Nothing is off limits.

WHAT'S THE BEST PART ABOUT BEING THE EDITOR OF DARE MAGAZINE?
Every day is different. I can jump from an interview with a celebrity, to commissioning some of the nation's best illustrators for our stories, then onto finding someone who's had a heart attack and is willing to tell us all the ins and outs (that's in an upcoming issue). If you've ever had a sleepless night wondering - is that a muscle twinge or am I in trouble? – this will be a story for you.
WHAT CAN READERS EXPECT FROM DARE MAGAZINE THIS YEAR?
More of everything our readers love – more inspiring real-life reads, in-depth features, more celebrities and new ideas on beauty, home, fashion (for both men and women) and food. As a sneak peek – celebrity chef Yotam Ottolenghi is coming up in our next issue, and we're exploring rising health prices, the phenomenon of air fryers and we ask men: are you stuck in a style rut?

IF DARE MAGAZINE HAD A MOTTO, WHAT WOULD IT BE?
We do have a motto: The time of your life. It's about living life to its fullest, no matter your age. It's all about getting all the information you need to live the way you want to: no rules, no regrets, no guilt.

---end---