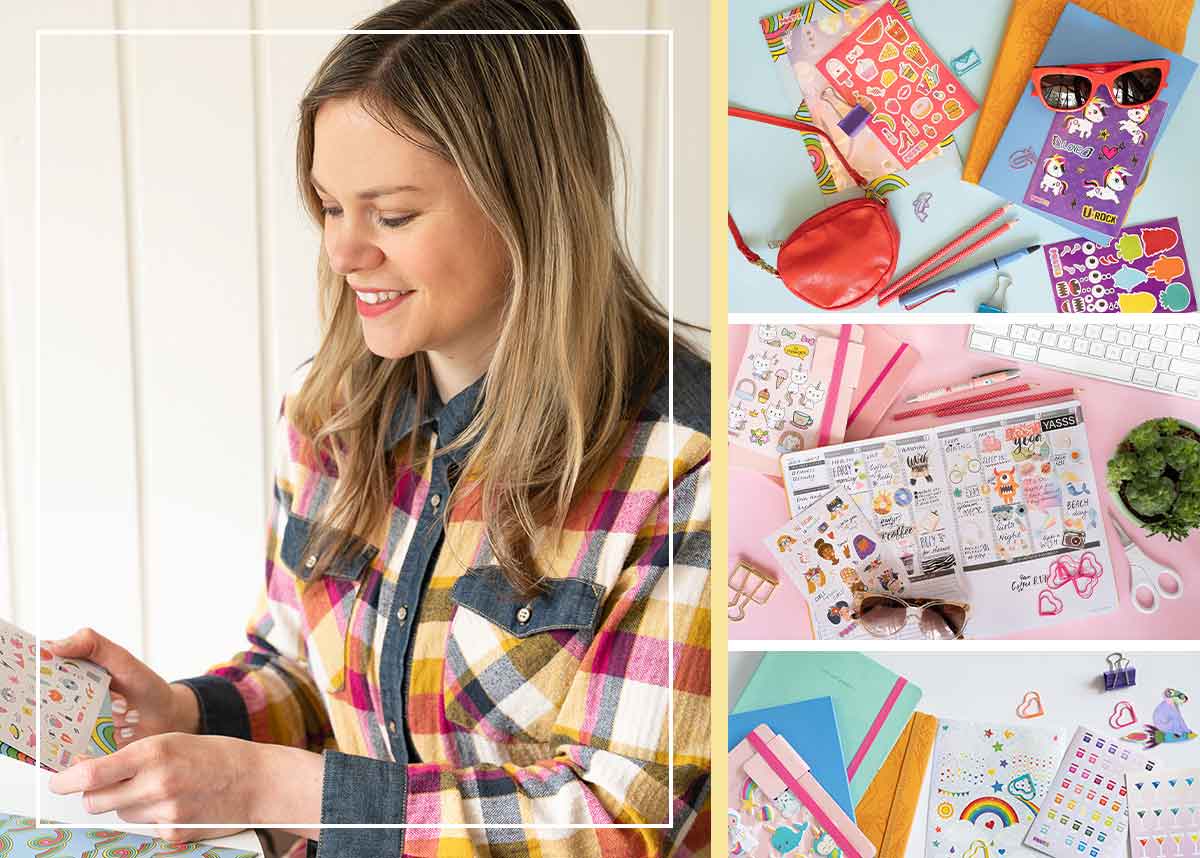 1. WHAT IS POSTIX SUBSCRIPTION? WHO IS IT FOR, WHAT'S ITS PURPOSE & WHAT'S INCLUDED EACH MONTH?
Postix is a monthly sticker subscription with different packs tailored for all ages.
While people may think stickers are just for kids, the popularity of bullet journals and planners has made our Busy Lady Sticker Subscription pack our best seller. The sticker designs in this pack are really modern, abstract, mature and sometimes edgy.
We have the Junior Sticker Subscription pack for tweens - lots of cute and fun stickers in this pack. It's also super popular with sticker collectors.
The Student Sticker Subscription is tailored towards high school students and university students with fun stickers to keep them motivated in their studies and decorate their study space.
The Mystery Mix Sticker Subscription is my favourite as it features highlights from all three packs.
Each month you'll get around 10 sticker sheets and sticker flakes plus our mini magazine with some creative ideas and competitions. The packs are designed to be a really fun experience to open when they arrive each month.

2. WHAT CAN SUBSCRIBERS EXPECT FROM POSTIX IN THE COMING MONTHS?
We've had so many requests for stickers for boys, so we're launching Lil' Brostix. Designs will focus on dinosaurs, cars, robots, monsters.
We're also bringing out a subscription pack for teacher's too - designs are fun and modern and will hopefully be some great rewards and bribes for the students!
3. WHAT DO SUBSCRIBERS WANT FROM POSTIX?
Collecting and swapping stickers is a really big thing, especially in the US and Canada. And if you want to grow a sticker collection, the magic number is three sheets - one to keep, one to use and one to trade. So we always aim to design sheets that people are going to want to collect, use and swap.
We'll also do some designs that we know will really resonate with our subscribers. For instance, we recently did a fun sheet of Australian snacks and another one of icon toys from the 90s. We also make some sheets which are designed to inspire creativity, such as our Build Your Own Unicorn/Snowman/Monster/Ice Cream sticker sheets - people are loving these sorts of sheets.
4. IF YOU HAD A MOTTO, WHAT WOULD IT BE?
I need to remind myself often that the path to success is never linear. That can be tough as you think you'll get to a point where things will flow perfectly but fundamentally there will always be challenges and obstacles to overcome.
5. IF YOU COULD BE ANYONE FAMOUS FOR A DAY, WHO WOULD IT BE AND WHY?
Right now, I would love to be the Queen of England. I think it would be fascinating to hear everything that goes on behind closed doors but still be a royal that most people respect. I couldn't handle being in her family for more than a day though!
6. WHY SUBSCRIBE TO POSTIX?
Subscribers always tell us how much joy our mail brings them each month.
Our stickers are designed to help keep adults motivated, inspired or have handy to decorate cards and gifts.
For kids, they are a great non-digital activity and inexpensive. They can have fun building a sticker collection and use them for some creative projects.
They also make handy bribes for parents too!

Check out: Postix Junior Stickers
Check out: Postix Student Stickers
Check out: Postix Busy Lady Stickers
Check out: Postix Mystery Box