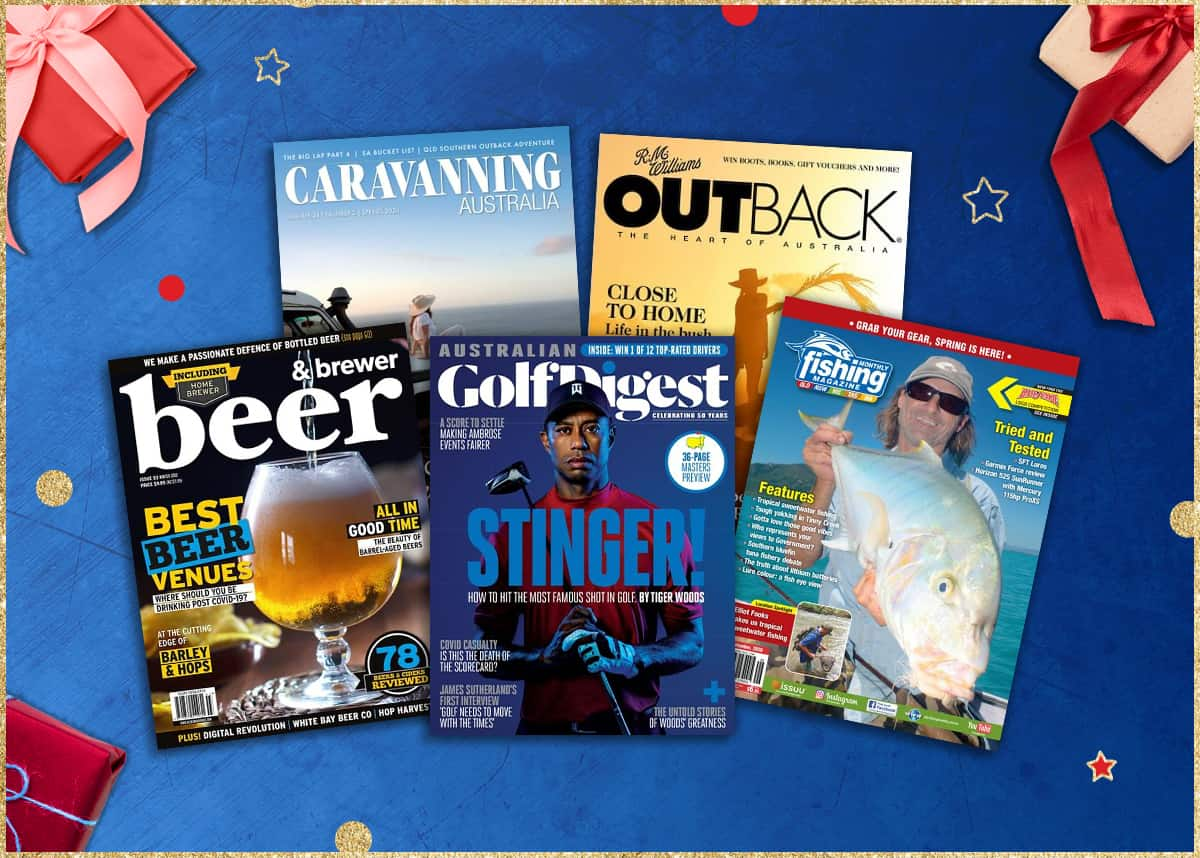 Australian Golf Digest
It's the best-read golf magazine in the country, for good reason. Australian Golf Digest is packed with news, practical equipment reviews and expert opinions on all aspects of the game, from swing technique to positive mindset. Showcasing profiles of famous golfers and celebrity aficionados, along with interviews with luminaries like Adam Scott, Greg Norman and Tiger Woods.
Subscribe to Australian Golf Digest
Fishing Monthly
Does your friend or loved one talk of tackle, bait, lines and serenity so much you wish they'd row off into the sunset?! Well, maybe not quite but this magazine might keep them giddy and quiet for a spell with area reports, news and predictions covering QLD, NSW, VIC, TAS and WA. Fishing Monthly also helps to plan trips with popular destinations explored detailing what has been biting and what next season might bring.
R.M.Williams OUTBACK
The editor of OUTBACK mag has said that 'real wealth lies in people and relationships' and you can see that he believes it in the stories that are featured. Outback is the ideal mag for people that connect with the heart and soul of Australia and take great pleasure in traversing its stunning scenery and lively communities.
Subscribe to R.M.Williams OUTBACK
Beer and Brewer
This is a must-have for any ale aficionado. Celebrating the beer industry and lifestyle in Australia and New Zealand, this mag features top tips on brewing at home; recipes to cook (and drink) with beer; weekend trip suggestions involving beer; upcoming events and festivals; info on local brewers and the latest brews and where to get them. It also includes tasting notes on beer, cider and whiskey. Cheers!
Caravanning Australia
There's always something getting in the way of just hitting the road and taking time out. A subscription to Caravanning Australia will keep up the momentum and planning for your annual holiday or epic adventure together whether that be up coastlines, under the desert stars or in in the midst of the outback.
Subscribe to Caravanning Australia
For more ideas, visit our Gift Shop where you can browse all the bestsellers.