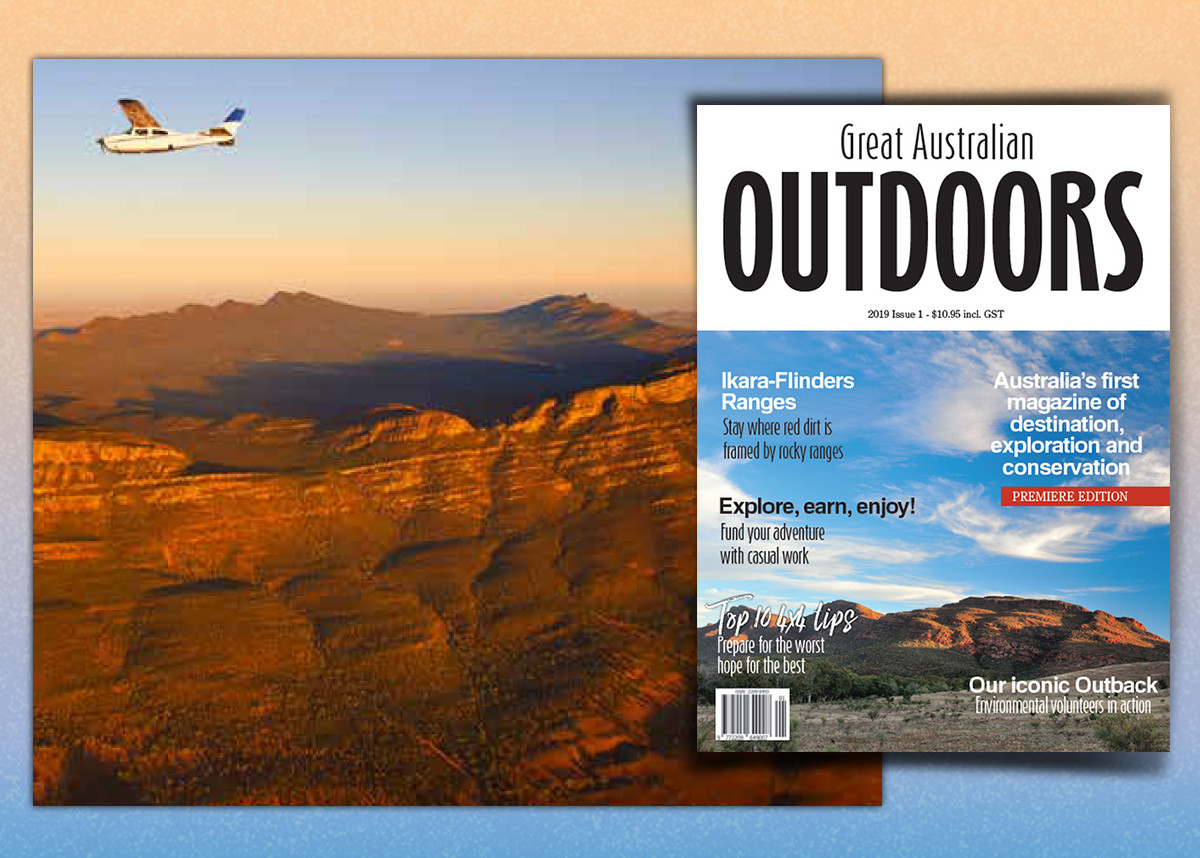 Great Australian Outdoors magazine is the first magazine combining the themes of destinations, exploration and conservation. Can you explain this a little more? Why these themes?
These three themes are intertwined. We want all Australians to experience firsthand enjoyment of the outdoors. We not only explore Australia's beautiful destinations and provide safety and enjoyment advice along the way, but delve deeper to look at conservation and solutions to sustain our diverse continent for future generations.
Who will get the most enjoyment out of reading Great Australian Outdoors magazine? We've had a great response from all walks of life, including conservationists, grey nomads, tourists, campers, fishers, hunters and those with a more scientific thirst. While we uniquely highlight Australian conservation issues, I think you'll find that there really is something for everyone inside the magazine - not to mention the incredible photography!
What do you love most about the Australian outdoors?
The variety for one, including the vast array of native flora and fauna. We have fantastic beaches, waterways, the Outback, wine regions, mountains, bush…the list goes on and we cover a great deal of it in GAO. The diversity Australia offers is unmatched across the world. And of course, the people you meet when out and about, whether it be the fair dinkum, true-blue Aussie, the wide-eyed backpacker or the experienced and well-travelled grey nomad.

What are your top 3 places to visit and activities to do?
It's tough to settle on just three, but remarkably unique destinations from the magazine include: South Australia's rugged Ikara-Flinders Ranges, which offers various accommodation options, four-wheel driving opportunities, star gazing, wildlife spotting, hiking and even scenic flights over the rocky ranges. Mataranka in the Top End, where tropical ambience provides amazing bird, reptile, fish and amphibious experiences, along with the Never-Never Land's hidden hotsprings. And 'boat camping' among Queensland's Keppel Group of islands, where you spend your glorious days swimming, reef snorkelling, fishing and exploring by sea and land.
There are a lot of different kinds of stories in GAO magazine from bush tucker recipes to historic Australian figures and how to tow your caravan, it seems to cover so much territory, excuse the pun! Can you give us some insight into how you decide what to feature in the magazine?
Quite simply, we love Australia and our great outdoors! We want everyone to enjoy it and help sustain it for the future. The magazine aims to encourage people to do just that and we present the means in an entertaining and informative way. We provide tips and product reviews to assist with safe travels and even show readers how to earn some money along the way to help pay for it all. We encapsulate the Australian outdoors to also cover fishing, boating, conservation and so much more because we're passionate about it and hope everyone can be as proud of this great continent as we are. So, take Great Australian Outdoors on the road….we hope to see you out there!