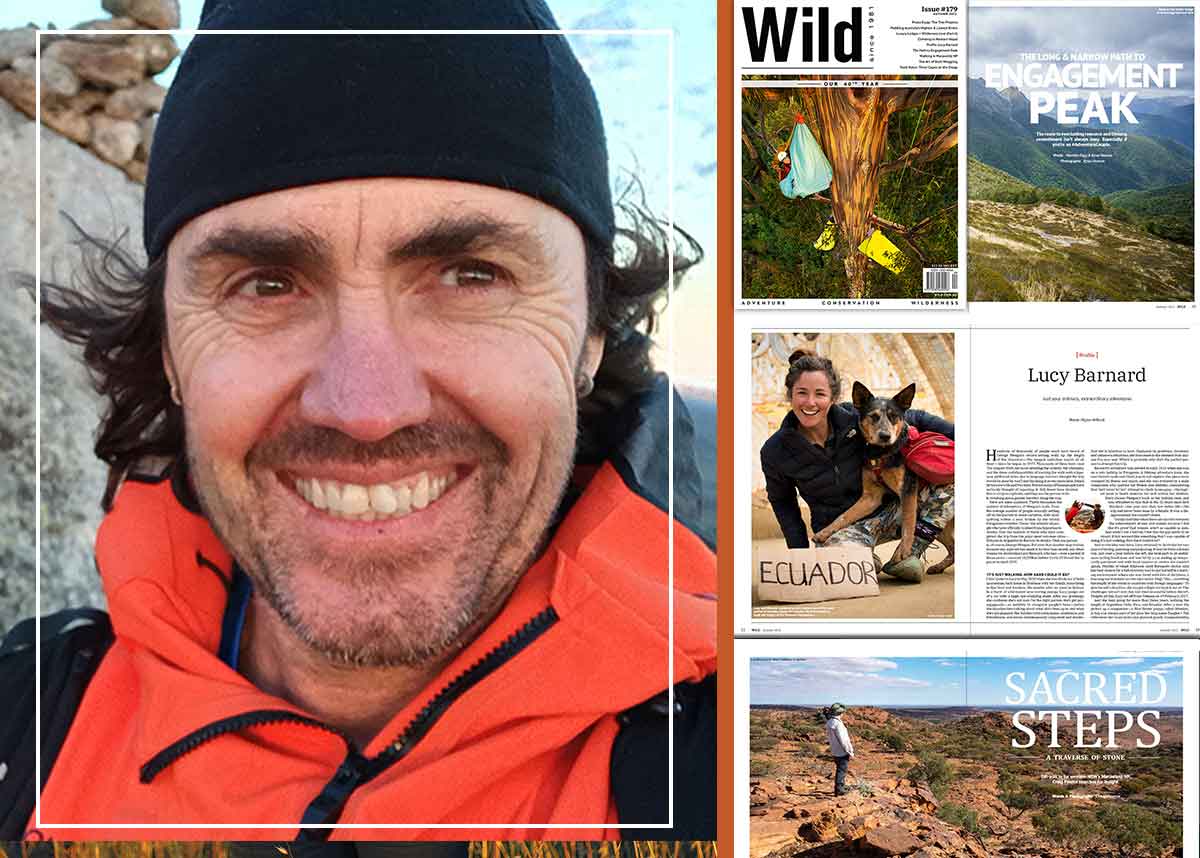 WHAT IS WILD MAGAZINE? WHO IS IT FOR AND WHAT DOES IT COVER?
Established in 1981, Wild is Australia's longest running adventure magazine. But it covers not just outdoorsy adventure pursuits; it passionately supports the environment. Conservation is a key element of the magazine. It's part of our DNA.
As for who Wild is for, while the magazine is not necessarily hard-core, what it certainly is not is soft-core. It is not glamping. It is not about being pampered while experiencing the outdoors. Wild is about self-reliance and challenge and sometimes doing it tough. Wild does not speak down to experienced adventurers. Although Wild is not inaccessible to those just starting out in the outdoors, our primary focus is on those with some level of experience.
WHAT CAN READERS EXPECT FROM WILD MAGAZINE IN THE COMING MONTHS?
2021 is our 40th birthday. We have a massive birthday celebration coming up which looks back at some of our long history. But we're approaching the colder months, too, so we have loads of winter-themed content coming up.
HAS COVID IMPACTED YOUR APPROACH TO THE MAGAZINE OR WHAT READERS WANT FROM THE MAGAZINE?
No, COVID-19 hasn't really affected our approach at all. People are just as passionate about getting outdoors, and about the environment, as ever.

IF WILD MAGAZINE HAD A MOTTO, WHAT WOULD IT BE?
It does have a motto: Adventure. Conservation. Wilderness. Those three words aptly sum up Wild's ambit.
WHAT ARE YOUR TOP 3 DESTINATIONS IN AUSTRALIA AT THE MOMENT? Numbers 1, 2 and 3: Anything that's close to home. Luckily, in Australia, most of us live close to beautiful, wild places that are just a short trip away. In the past, we've sometimes overlooked what's right in our backyards however, but if there's one thing COVID-19 has forced us to do, it's to look close to wherever we live to find adventure. Even now, travelling interstate can be problematic, so we all need to look a little harder at what's around us. And staying close to home reduces our environmental impact, too.
IF YOU COULD BE ANYONE FAMOUS FOR A DAY, WHO WOULD IT BE AND WHY? This is a bit of a niche answer, but possibly Swiss freeskier Jeremie Heitz. I've never seen anyone attack such steep mountains at such insane speeds as he does. To experience that feeling of free-falling on skis, but yet be in control on 50-plus degree slopes, would be the experience of a lifetime.
WHY SUBSCRIBE?
If you're passionate about the outdoors and the environment, and want cracking tales of adventure, amazing and inspiring imagery, and important conservation stories (stories in which there is no fear of expressing environmental opinions strongly), then you should subscribe to Wild. Wild tells stories that matter.
WHY DO YOU THINK WILD MAGAZINE IS STILL IN PRINT AFTER 40 YEARS?
Honestly, I don't know all the secrets to Wild staying in print after all these years (there are likely so many), but what I can say is that the passion of the community we serve is fundamental. And it's been that way from the very outset 40 years ago. It's not just that the Wild community is willing to keep buying the mag; it's that our readers are, and have always been, frequent contributors, keen to tell their stories of adventure to others, or to keep the Wild community abreast of environmental issues. The fact we can run on the smell of an oily rag hasn't hurt our longevity, either.
WHAT HAVE BEEN THE PIVOTAL MOMENTS OR DECISIONS DURING THE LAST 40 YEARS THAT HELPED WILD MAGAZINE TO THRIVE?
I'm only in my third year at the helm here at Wild; that means there's been 37 years of pivotal moments and decisions that I have no idea about. In a way, it's humbling that I don't. I recognise I've been handed the baton for just a short while in what has been an otherwise very long relay. One thing that is clear, though, in terms of Wild's longevity is the importance of Wild's founding editor, Chris Baxter, who carried the mag through its first two decades. Without his passion, vision and dedication, it's hard to say that Wild would still be here.